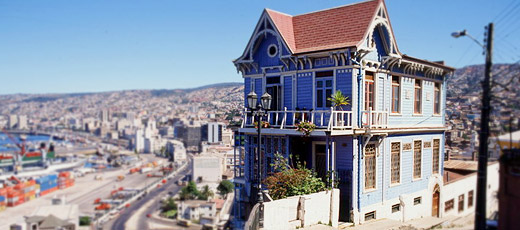 Chilean Cities. There are many fascinating cities in the long narrow country. Discover some of the culturally rich and diverse cities located in Chile.
There are a multitude of intriguing Chilean cities that span across the whole of the long narrow country. The cities vary greatly from one another; from Santiago de Chile, which is the capital, to those situated on the coast or in other locations across this country that is so rich in natural beauty.
Santiago is the biggest city in Chile with over 5 million inhabitants. Almost everything you could possibly need or want can be found in this vast metropolis. The museums, theatres, malls, restaurants of every ethnic background, bars and discos come together to form this incredibly vibrant city.
Valparaíso is Chile's principal port and second-largest city, and is one of the most interesting destinations in South America. Situated between the waterfront and a nearby mountainous region, the cobbled streets of the center are overlooked by steep cliffs and hilltop settlements. The recently developed pier is a lively market area and the fascinating old-town is home to colonial buildings and churches.
One of the northernmost places in Chile is the city of Arica. One can enjoy the warm Pacific beaches or embark on an excursion to the Altiplano to experience first-hand the wildlife in the driest desert in the world.
These are just three examples of some of the beautiful, culturally rich and diverse cities that are located in Chile; there are many others that display similarly impressive and important sites that the country has to offer.
Related articles