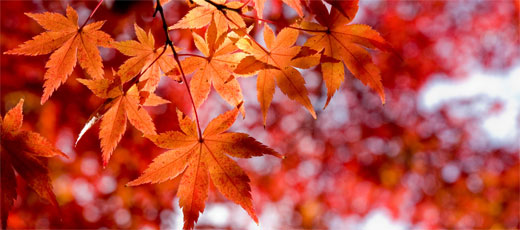 Autumn in Mexico. Autumn is a great time to visit Mexico for several reasons: since this is the low season for tourism you can find more special offers.
Mexico is a country with a surface area that is four times the size of Spain's. The tropic of cancer runs right through the middle of the country, which marks great climate differences between the northern and the southern halves. Mexico's topography includes mountain chains that stretch north to south and flank its great midland plateau, in the heart of which sits the country's capital Mexico City at 2,200 meters (1.3 miles) above sea level.
Autumn is a great time to visit Mexico for several reasons: since this is the low season for tourism you can find more special offers including deals for couples and families.
In many parts of Mexico, the rainy season ends in October, where the heaviest amounts of rain falls in July and August. So even though you may get a sudden shower, they're not as common in the fall. The Caribbean's hurricane season ends in October, so your chances of getting caught up in one of those goes down considerably also. It's also important to keep in mind that Mexico is a country with a wide variety of climates that range from mild temperatures on the coast to dry weather in inland regions, where high elevations and mountain areas get less rain. Depending on where you're going, you may have to pack a rain coat and a sweater along with your summer beach wear. You might also want to bring a good pair of shoes for hiking around and exploring this amazing country while watching kids out on a windy autumn afternoon flying their colorful kites.
A number of popular Mexican festivals and cultural events also take place in autumn.
September is a patriotic month in Mexico: everything is painted green, white and red (the colors of the Mexican flag) during the Independence Day festival. It's called El día del grito (literally: the day of the shout) and it's celebrated halfway through September. The town squares, known in Mexico as zocolos, fill with people who have gathered to express their patriotism with a traditional shout. The Festival Internacional de Chihuahua is celebrated the same month, in which each year over 500 cultural events are put on in Ciudad Juarez and Chihuahua. The third week of September, the Oaxaca Film Festival is held, which centers on independent films and is scheduled to coincide with the Oaxaca International Literature Competition. You can celebrate the autumn equinox in Chichen Itza on September 22nd, a day when the site's famous pyramid produces curious shadow play that makes it seem as though a snake were slithering along the staircase.
The San Miguel de Allende festival is held toward the end of September. This gives way to the city's Festival Internacional Cervantino which is held throughout October and is one of the year's most important cultural events in Mexico.
In Baja California, during the annual celebration of the founding of Mexicali, the Festival del sol is held until the middle of October. The festival offers a jam-packed program complete with concerts and festive activities.
Other notable autumn time events in Mexico include the Morelia Film Festival, the Tulum Sea Turtle Festival and Mexico City's Alebrijes (folk sculptures) parades.
The day of the dead is of course another reason to visit Mexico in autumn. On this day, the entire country comes alive in spectacular splendor, a time when visitors can't help but get caught up in the excitement.
There's so much to do in autumn in Mexico that we don't have enough room to mention it all here. For more information, we recommend checking out Mexico's official tourist website: www.visitmexico.com.
While a trip to Mexico any time of year is always an appealing opportunity, going in autumn can be a truly exceptional and unforgettable experience. It's a unique chance to learn Spanish and to get to know this wonderful country and its people.