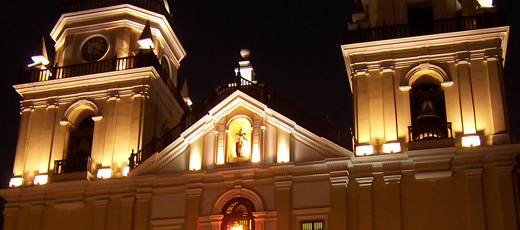 Find out more about the most important cities in Peru such as Cusco, Lima, Trujillo and Machu Picchu.
Out of all the Peruvian cities, the capital Lima is easily the best known. The largest city in Peru, Lima is home to not only the industrial and financial hubs of the country, but also the oldest university in the Americas. Like many other Peruvian towns, Lima overlooks the Pacific Ocean.

Trujillo is also on the coastline, although in northwestern Peru, and is capital of La Libertad Region. Trujillo is very near to two Peruvian places of historical interest; the Chan Chan, largest adobe city in the ancient world and UNESCO World Heritage Site since 1986, and the temples of the Sun and the Moon, which are Peruvian sites well worth visiting.

Piura, also in the northwest, is one of the most culturally significant Peruvian places; it was here that Spanish Conqueror Francisco Pizarro founded the first Peruvian city of the Spanish Colony, then called San Miguel de Piura, in July 1532. Another of the many famous Peruvian places, Cusco, located in the southeast of the country, is also a UNESCO World Heritag e site, as the historic capital of the Inca Empire. With its 2 million visitors every year, it is one of the most visited Peruvian places.
Related articles