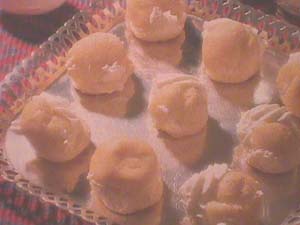 INGREDIENTS
150g flour
½ glass milk
½ glass water
100g butter
4 eggs
1 teaspoon salt or 1 soup spoon sugar, depending if you want them to be sweet or savoury.
METHOD
Ponga en un cazo y al fuego la leche, el agua, la sal o el azúcar y la mantequilla. Cuando se haya derretido la mantequilla, añada la harina y remueva con una cuchara de madera hasta que la pasta sea homogénea y se despegue de las paredes del cazo. Retírela del fuego y añada los huevos sin dejar de remover.
Rellene una manga pastelera de boquilla ancha con la pasta. En una placa de horno previamente untada con mantequillam, vaya haciendo unas bolitas de unos dos centímetros más o menos.
Métalo en el horno, previamente calentado a 180º manteniendo la puerta del horno entreabierta durante 25 minutos. Déjelos enfriar en el horno.
TIME
45 minutes