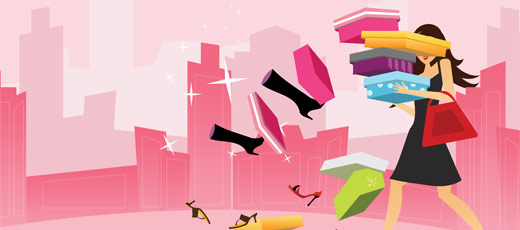 The Spanish fashion is known all over the world through its designers, prestigious international fashion labels and models.
Spanish fashion triumphs all over the world through its designers, prestigious international fashion labels and models that have had success on international catwalks like in Milan, London, New York and Paris displacing the most sought-after top models in the market. The world of fashion, frivolous as it may seem, is a million-dollar business which does not only allow many national companies turnover millions of dollars, rather it makes Spain known and it promotes the use of Castilian.
An example of this expansión at international leve lis that of the leading company Zara which is currently the most widely known company of Inditex group, also consisting of Pull & Bear, Massimo Dutti, Berksha and Stradivarius, a fashion empire made up of hundreds of factories and 1080 shops in 33 different countries.
Inditex dresses Europeans, Americans, the Japanese, and the Middle Eastern population alike with its labels. It also attracts international personalities for example Chealsea Clinton, the daughter of Bill Clinton, ex-President of the United States, who once modified his presidential itinerary to go shopping in the Zara branch of Ankara, the Turkish capital where his father had once visited officially.
The thing with this story is that it had wide repercussions and it meant unexpected as well as free publicity for the company which, among its characteristics that distinguish it from its competitors, had to suffer a calculated aversion to advertise itself through the media. A similar story of free advertising which the company enjoyed was when the American model Cindy Crawford appeared unexpectedly in one of the Zara branches of Canada.
However Inditex and Zara have not only known how to attract the foreign market. Companies with large numbers of sales like El Corte Inglés, Loewe, Camper, Mango and Pronovias have taken part. In the case of Pronovias the Spanish firm which produces clothing for weddings is the largest producer in the world specializing in this market. Since 1965, the year in which it was born, it has been ever an ever growing company. There are 100 shops with the name in Spain, one in Paris and one in New York and 1000 mini stores within department stores, distributed over more than 40 countries. Another one of the fashion empires is Mango. With more than a hundred shops in the world its expansion in 1998 was so big that it had an average of 10 openings of shops every month. China and India are the latest openings of a giant which employs more than 4000 people.
However behind these companies and other companies the brains of Spanish fashion can be found. They are the artists of fashion, with Spanish names which mark style. Some have triumphed in the country but have also crossed the borders to take their label to other countries to gain success and it has been something which has rendered them Gods in their native country.
Among the most notable fashion designers many names can be found such as Antonio Miró, Agatha Ruiz de la Prada, Pura López, whose products can be found in Asia, Australia, Latin America, and it many parts of Europe, Amaya Arzuaga, Pedro del Hierro, Paco Rabanne…. A large list of designers who have sold all over the world.
In the case of the Sevillians Victorio & Lucchino, their designs can be found in the best shops in New York, in Paris they are a point of reference and also sell in Italy, Germany, the United Kingdom and Japan. Other have managed to become known by merging, which is the case with La Asociación Textil de Galicía (Galician Fashion Association), which boasts well-known names like Adolfo Domínguez, Javier Cañas Caramelo and Roberto Verino. Each one of its members, currently 13, generates millions each year thanks to its varied and personal offers. Forming part of this group has helped them to become famous, nationally as well as internationally. They, together with other designers, have played a part which has given rise to Spanish fashion its grand success.
However, it is without doubt that Spanish models are the main reasons why Spanish fashion has become to be so recognised internationally. Professionals who can let themselves be called top models, a word which only the best are named. Among them, names such as Eugenia Silva, for whom it is normal to see at on 5th Avenue in New York. A close up of her face used to be on la valla de Escada. Eugenia has modeled for Yves Saint Laurent, Prada, Christian Dior. She has made the front page of the Italian and American Vogue and has modeled for campaigns of Óscar de la Renta and Clinique.
Also Vanesa Lorenzo has been involved in a big campaign. She has been the face of Gap and has featured on billboards in Time square and in JFK airport. However they are not the only ones. Eshther cañadas, Inés Sastre, Laura Pone, Nieves Álvarez, Judith Mascó and Verónica Blume are models who today who can been seen in the world, contributing to the use of Castillian and it being the second most used language of the world.