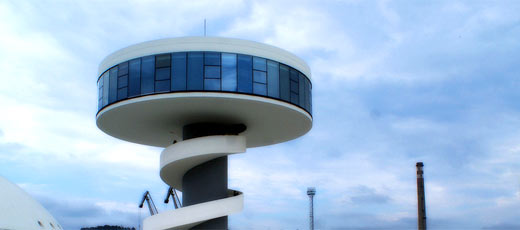 The Oscar Niemeyer International Cultural Center is a cultural complex located in Aviles, Asturias in Spain.It was designed by the architect Oscar Niemeyer.
The Oscar Niemeyer International Cultural Center is a cultural complex located in Aviles, Asturias in Spain. The cultural center was designed by Brazilian architect Oscar Niemeyer, world renowned for his emblematic buildings in Brasilia, Brazil. The Oscar Niemeyer International Cultural Center aims to integrate all types of contemporary and performing arts including exhibitions, music, theatre and dance, gastronomy, lecture and education.
The Oscar Niemeyer International Cultural Center is the central piece of Innovation Island, built in the Aviles estuary. The project is part of a wide urban regeneration process focused on reviving the city of Aviles which was severely degraded during industrialization in the 1950s.
The centenarian architect, the only live architect (as of 2011) whose work has been declared a UNESCO Human Heritage site, received the Prince of Asturias Award in 1989. It was at this time that Oscar Niemeyer began a relationship with the region of Asturias. In fact, the architect donated the International Cultural Center project to the Principality to create the center that bears his name.
The Oscar Niemeyer International Cultural Center is formed by 5 principle elements:
The open square: a large open outdoor space that reflects Niemeyer's idea to create "a place open to the world".
The auditorium: a stage that opens to an auditorium and can also open up to the square or Club to host small performances.
The dome: a large space for exhibitions.
The tower: a 13 m (43 ft) high sight-seeing center with a restaurant.
The multi-purpose building: equipped with a film center, various conference and meeting rooms, a playroom, bar and store.
The Niemeyer Center is based on three fundamental concepts: education, culture and peace. With these three pillars, the center collaborates with a network important cultural centers including the: New York Lincoln Center, London Barbican Center, Sydney Opera House, Paris Pompidou Center, Alexandria Library, Tokyo International Forum and the Hong Kong Cultural Center. In 2007, the Niemeyer Center organized the first First World Forum for Cultural Centers in 2007, also known as the G8 of Culture.
Along with the cultural center itself, the Oscar Niemeyer International Cultural Center Foundation was also created and is in charge of preparing the cultural program of events. The foundation's objective is to pursue excellence and establish the center on the international scene. The Oscar Niemeyer foundation has an International Advisory Board with well known and respected members such as the actors Woody Allen and Brad Pitt, scientist Stephen Hawking, author Paulo Coelho and Internet creator and Google vice president Vinton Cerf.
The Oscar Niemeyer Center is a key piece to the project to revive the city of Aviles is Asturias. The Cultural Center has helped to change the city's seafront, restoring some of the beauty it lost to industrialization, a feat we now know is possible.
Photo by: Sophoco