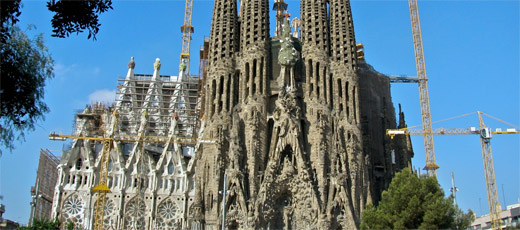 Find out information about La Sagrada Familia, the Sacred Family, one of the most beautiful works of Gaudí.
'El Templo Expiatorio de La Sagrada Familia´ (lit: The Church of Penance of the Sacred Family) in Barcelona, commonly known as ´La Sagrada Familia´ is a work invented by Antonio Gaudí (1852 - 1926), the famous modernist Catalan architect.
Currently unfinished, the temple´s construction began in 1882 with a neo-gothic style designed by Francisco de Paula del Villar y Lozano, however the following year the project was passed over to Gaudí who redesigned it from scratch and gave it the particular modernist style that has made the building and himself famous as an architect throughout the world.
Antonio gaudí was only 31 years of age when he took charge of this particular project which fell into his hands because of the disagreements between Villar y Lozano y Joan Martorell, the latter the architectural advisor of Bocabella. Gaudí would dedicate the rest of his life to the construction of ´La Sagrada Familia´ and his last 15 years of his life he made it is only project.
The temple is situated in the heart of the Eixample area, between the streets of Provença, Mallorca, Marina y Sardenya, one of the most symbolic areas of urban development of Barcelona at the end of the 19th century.
The project of the temple is made up of 18 towers distributed in the following way: 4 towers over each one of the three entrances to the temple, a collection of 6 towers forming a dome with a central tower of 170 meters on top dedicated to Jesus. The inside forms columns which lean in a tree-like manner supporting the vaults.
The slenderness of the columns which shape the entrances of the shape attracts the attention of everyone. Essentially they are grand conical towers which get narrower as they get taller. It makes one look up due to the spiral form that is given to the windows constructed following spirals which rise towards the sky.
At the time of its architect´s death, occurring in 1926, only one tower had been built. From its project the plans and the plaster model were left, but the latter was badly damaged during the Spanish Civil War (1936 - 1939). However despite all this its works have continued. Today there are the façades dedicated to the Nativity and to the Passion and the façade of the Glory has been started. The work of the inner vaults is also being carried out.
UNESCO has included in its place from the façade of the Nativity and of the Crypt, the only parts that Gaudí could finish whilst alive.