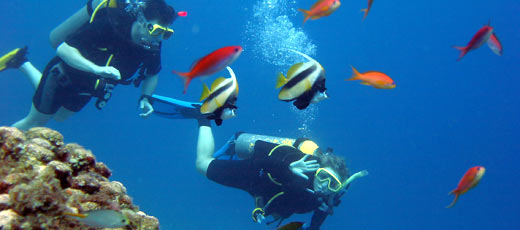 Find out information about scuba diving in Spain. Places to go and ideas about this adventure sport.
When we think of exploration and adventure what do we think about? As there are many possible answers to this question each one will depend on an individual's concept of adventure. However when we act upon adventurous instincts do we really realise what we want to. Nowadays it would seem that almost anything is possible to do and one of the most exhilarating things is seeking adventure through things that are not done every day. One activity that fits this category of thrill-seeking adventure is scuba diving in Spain. On the increase, this aquatic sport stretches the imagination and allows a person to 'plunge´ him or herself into a world we take for granted, the world of which we know lots but at the same time so little; the ocean.
With ready available facilities and the opportunity to go in search of the aquatic world almost anywhere on the peninsula, Spain's Almeria in Andalusia is a perfect place to practise the sport with many resorts where it can be done with beaches and clean blue seas making the experience all the more exciting. However the sport itself is a lot more than just throwing on a dry suit, goggles and a gas tank. The activity in reality is much more than that and there is more science behind it that one would think.
The experiences we experience above water are very different to the ones we experience underwater. One of the main reasons for this is due to the senses. We see differently under water because of optics. We hear differently because sound travels much faster. We perceive colours differently due to them being absorbed by water in a very different way than by air. As diving also subjects the person to a substantial amount of pressure it is important to know the physics behind this alluring activity in order to do it well. Given all the Despite all the science it would appear to be quite a complex activity, but worthwhile nonetheless.
For novices of the activity, and also for those who are not strangers to this aquatic pursuit, the natural park of Cabo de Gata in Almeria, Andalusia with its clear water and beautiful surroundings offers ideal conditions for a first dive. What makes the area even more special is that the natural park of Cabo de Gata is one of the few sub-desertic areas in Europe and was the first natural coastal zone to be classified as a protected area in Andalusia. The coastline belongs to one of the cleanest and most transparent areas in the Mediterranean sea making visibility amazing when embarking on a scuba dive. All levels of experience of diving are offered in the area - from shallow dives along the coast, to deeper dives or even caves.
Cabo de Gata is the only place throughout the entire Community of Andalusia of maritime-land character and boasts an amazing land and seascapes on the coastline of Almeria. Also another note for divers, one of the greatest wealths of this natural space is under the sea and what sort of experience would scuba diving in Spain be without having the chance to get closer to that world living beneath? Thus expect to see a fantastic variety of fish keeping an eye out for: snappers, pollacks, grouper, ocean sunfish, barracudas, eagle rays, morays, brown meagres, moray eels, conger eels, white breams, and many red sea fish. Numerous species of crustaceans and molluscs are also not uncommon.
As it would seem the waters off the coast of Almeria, and Cabo de Gata in particular, are a diver's paradise and hailed one of, if not the best place to go diving in Spain.