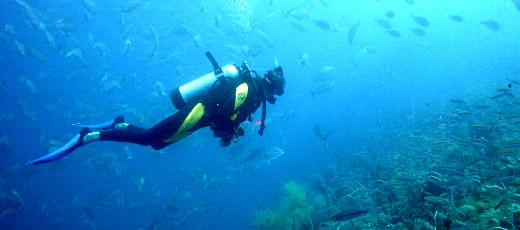 Find out more about the adventures and activities that can be done in the Mediterranean Sea.
Mediterranean Sea is home to many aquatic activities and action adventures that are a big source of tourism in the region. The mild climate, beautiful coastline, diverse sea life, rich history and unique cultures make it one of the most popular tourist destinations in the world. There are many recreational activities and adventures in the Mediterranean region including cruises, shipwreck and reef diving, surfing, whale watching, sailing and yachting, bike adventures, kayaking, walking tours, horseback riding adventures and much more.
The Mediterranean Sea covers a vast area of 2.5 million km² (965,000 mi²) and is connected to the Atlantic Ocean by the Straight of Gibraltar, located between Spain and Northern Africa. It is otherwise completely enclosed by land. The sea provides 21 countries with coastline, making it an exciting destination full of options for those seeking fun and adventure in the Mediterranean Sea region. Additionally, one cannot ignore the 23 beautiful islands located in the Mediterranean Sea, including Ibiza and Majorca, great places for scuba diving, surfing, sailing, and other aquatic adventures.
Many countries, lots of coastline, beautiful beaches and warm weather makes the Mediterranean region a paradise for those searching for aquatic and action adventures. Let's take a look at some of the most popular Mediterranean Sea adventures:
Mediterranean Sea Cruises
There are many cruise lines that offer Mediterranean Sea cruises. They generally run from three to fourteen days and offer a wide range of activities and adventures. Itineraries include stops at many important ports of call, where you can discover remnants of ancient civilizations and exotic cultures.
Mediterranean cruises generally fall into three categories: Eastern Mediterranean cruises, Western Mediterranean cruises and Southern Mediterranean cruises.
Choose a Western European cruise to get to know Spain; they normally stop in Valencia, Barcelona, or Majorca.
Shipwreck and reef diving in the Mediterranean
In the Mediterranean there are many great places to dive. The warm sea temperatures range from 14ºC to 24ºC and boast a wide array of wildlife and fauna. The Straight of Gibraltar, in southern Spain, is narrow and shallow, perfect for Mediterranean diving adventures.
Spain is a great option for those seeking adventure in the Mediterranean. The country boasts many options as Spain shares coastline with the Atlantic Ocean, the Cantabrian Sea and the Mediterranean Sea. This gives divers a wide range of options, both cold and warm water dives to observe a variety of aquatic life.
In the Mediterranean Sea there are also many places for reef diving and wreck diving adventures. For those who enjoy both, head towards Torrevieja, Spain, which features a variety of both. Other great scuba diving destinations in Spain include: Canary Islands, Costa Blanca, Costa del Sol and the Balearic Islands.
Surfing in the Mediterranean
Lots of beaches with big waves make the Mediterranean Sea a great destination for surfers. Spain has some great waves in the north, which is technically on the Bay of Biscay. On the Mediterranean side Spain also has some great destinations for surfing action adventures. Check out these beaches on the Mediterranean side: El Bogatell, El Castell, Morro de Gos, Playa Fiesta, Torrevieja and, perhaps the most famous, Voramar beach.
Sailing and Yachting in the Mediterranean
The Mediterranean Sea is a rich sailing area with great history and cultural significance. Sailors come from all over the world to charter boats or yachts to sail around the famous Greek Isles, Turkey, Sardinia, the French Riviera, the coastline of Spain, the Balearic Islands and much more.
You can charter simple yachts and sail boats or luxury ones with full crews. Either way, your boating adventure on the Mediterranean Sea will be an exciting one, with variable sailing conditions, great views and wonderful sightseeing.
Whale Watching in the Mediterranean
The best place in the Mediterranean to practice whale and dolphin watching is in the Straight of Gibraltar, the gateway to the Mediterranean Sea. Here, the cold northern waters and the warmer tropical waters meet, making it a great place to observe migrating cetaceans. In Spain, probably the best destination is Tarifa, where you can observe species like Bottlenose Dolphins, Common Dolphins, Striped Dolphin, Pilot Whales, Sperm Whales, Fin Whales, and Orca Whales.
Bike Adventures in the Mediterranean
There are many companies dedicated to bike adventures in the Mediterranean. From the Atlantic Ocean to the Mediterranean Sea, along coastlines and through mountain sides, enough to satisfy anyone's desire. There are also thematic tours involving Mediterranean gastronomy and others that shadow the Tour de France routes. The Mediterranean people love cycling, so it is a great destination for your biking adventure.
Mediterranean Sea Kayaking and Walking tours
The Mediterranean Sea is a great place to get introduced to sea kayaking. Many kayaking adventure tours are combined with walking tours, a great way to get to know the landscape.
Perhaps the best Mediterranean kayaking destinations include Sardinia, Malta and Tunisia. Another great place for a kayaking adventure is on the Catalan coast in Spain, where you can enjoy beautiful sites, spectacular cliffs, inlets, caves and more! Andalusia, in southern Spain, is also a great place for aquatic adventures. Go to Tarifa, for example, where you can kayak, canoe or choose a real action adventure: white water rafting. There are also many tour operators in the Costa Brava (Spain) that offer kayaking, canoeing and walking tours, as well as other Mediterranean action adventures.
Horseback riding in the Mediterranean
Horseback riding is a favorite sport, and what better place to enjoy it than in the Mediterranean? Israel and Turkey offer tours and trails along the Mediterranean Sea, but those looking for an authentic Mediterranean adventure could head to Spain, the home of the Pure Spanish Andalusian Horse. Spain has a rich equestrian history, and there are many tours to choose from. However, to get breathtaking views of the Mediterranean Sea we suggest Catalonia, where many of the adventure tours offer up to two days of beach riding.