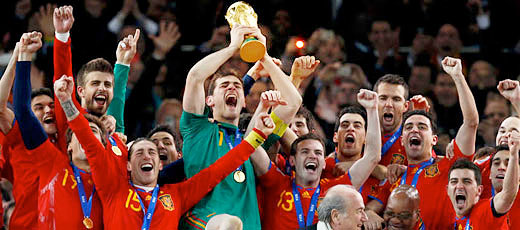 Spanish Soccer Team. In June 2010 Spain became the 2010 FIFA World Cup Champion, an elusive title that had evaded Spain during its long soccer history.
Spanish Soccer or as it is called in Europe "football" is commonly referred to as the Red Furry (La Furia Roja). This could have a lot to do with their home colors being a striking red jersey with distinctive yellow stripes representing their national colors or perhaps it has more to do with their remarkable success in recent years. In any case, "La Furia Roja" undoubtedly creates apprehension in the hearts and minds of any soccer team that confronts them. And as Spain showed the world in the South Africa 2010 World Cup, there is a good reason for this.
As of Sunday 11th June 2010 Spain, led by Salamancan Vicente del Bosque, became the 2010 FIFA World Cup Champion, an elusive title that had evaded Spain during its long soccer history. In 2008 Spain's soccer team won the UEFA European Football Championships and in 1964 the European Nation's Cup. At the height of Spanish soccer success, in 2008 the Spain soccer game reached the top of FIFA World Rankings, with due merit after proving their strength through a record matching 35 consecutive wins from 2006 through 2009.
In the 2010 World Cup draw, the Spanish soccer team was placed in group H with Honduras, Chile, and Switzerland. The first day stunned soccer fans as Spain was defeated by Switzerland 0-1. The second match proved stronger as Spain defeated Honduras by Spanish player David Villa's two amazing goals. On June 25, 2010 they confronted Chile which they beat 2-1 allowing them to advance to the knock-out stage in which they defeated Portugal 1-0. In the exciting quarter finals, Spain confronted Paraguay and won the match 1-0 when David Villa scored a goal after Pedro Rodriguez, from Tenerife,'s shot struck off the post marking the first time since 1950 that Spain had reached the World Cup Semi-Finals.
In the World Cup Semi-Finals, the Spanish soccer team faced up to Germany, a strong rival who had eliminated other favorites such as Argentina and England having scored a staggering 4 goals in each match, and won 1-0 when Spanish soccer player Carles Puyol headed an impressive goal off of a corner kick. This amazing head goal by Puyol allowed Spain to advance to the World Cup Final for the first time ever.
The 2010 FIFA World Cup Final between Spain and the Netherlands took place on 11th July 2010 in Johannesburg, South Africa. Both teams were playing for high stakes given that neither team had ever earned the title. The Netherlands had previously lost two World Cup Finals in 1974 and 1978. The soccer match would ultimately lead to heavy criticism, mostly due to the unusually high amount of yellow cards issued primarily to the Dutch players for their rough play.
After 90 minutes of play the score remained 0-0 and went into extra time, but Spain was determined to avoid the final soccer match ending in tiebreaking penalty shots. In the second half of extra time, with only 4 minutes remaining on the clock, Spanish soccer player Andrés Iniesta scored a spectacular goal sending cheers of excitement throughout Spain and sealing the Spanish national soccer team's fate as the new 2010 FIFA World Cup Champion. Iniesta dedicated his winning goal to the memory of his friend Dani Jarque, an Espanyol soccer player who died during pre-season training the previous year.
Many say that the most inspiring part of Spanish competition was simply the overall performance, team spirit and eloquence of Spain's relationship between defenders and attackers. This ability was perhaps best shown during the Spain vs. Germany match in which many boasted that Spain had never played so well. Although the selection did not award us with many goals as spectators (with 8 goals in total), the Spanish soccer team consistently showed seamless control and dominance over their rivals. Also worth noting, "La Furia Roja" was awarded the FIFA Fair Play Trophy as a record of good sportsmanship.
The Spain World Cup celebration was amazing. The overall attitude in Spain was of pure euphoria after having finally delivered the results that many had been waiting for for 80 years. It was a day of the Spanish sport history, not only marking the first Spanish FIFA World Cup win but also the first time any European nation had won the tournament outside its home continent.
It is an exciting time to be in Spain as you wonder through the streets and observe the Spanish flags hanging from terraces, windows, cars, and any other place available. The Spaniards are elated, having reached a climax in Spanish sports history.
When the Spanish Soccer players or "national heroes" returned home to Madrid they were greeted with a 9-hour well-deserved citywide celebration. Spaniards from all regions celebrated this victory together and showed the world their national pride and that they are indeed proud of their success and proud to be called Spaniards.