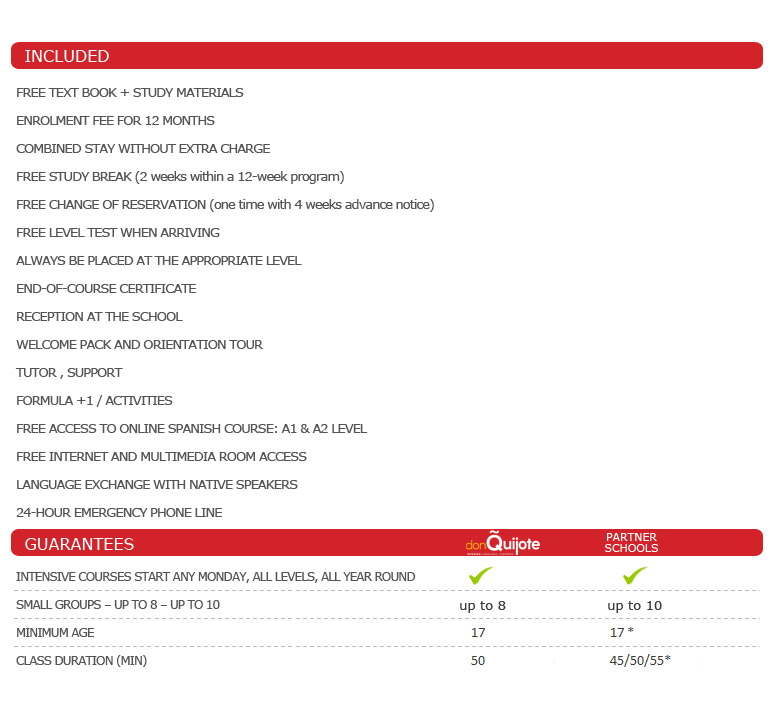 Personal Assistance
24-hour emergency phone line.
Cultural adaptation and professional guidance adviser.
Teaching
Thorough written and oral level tests to place you at the study level that's right for you.
All of the study materials for each level of Spanish you undertake.
Formula +1: an extra daily class covering culture and current events.
Tutor.
Certificate of completion documenting your progress, hours completed and level of proficiency achieved.
Settling in
In donQuijote Schools you will enjoy a wonderful welcome tapas/reception at the school to help you get acquainted with your teachers and fellow students. Available every 2 weeks.
A guided tour of the city to help you find your way from the first day.
Welcome pack, including a map of the city.
During your stay
Computer room with wireless internet access.
Unlimited use of our Online Spanish course, levels A1 and A2, in our school computer room to continue practicing all you learn.
Digital camera, scanner and a special space on our website to post your photos. Share your memorable moments with your family and friends right away without jamming their e-mail accounts.
Access to reading and reference books, videos, personal stereo, DVDs, CDs and tennis rackets.
Rest Assured
(when choosing don Quijote lodging)
Towels (when staying with a family), bed linen, gas, electricity and water.
Lounge, TV, oven, washing machine, and iron in student residence halls and apartment/flats.
Cleaning service in common areas: weekly in the apartment/apartments and daily in the residence halls.
Maintenance engineer to take care of repairs in the residence halls and apartment/flats.