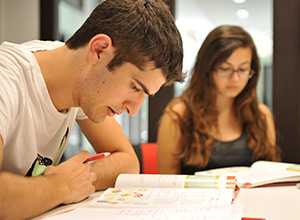 The course is geared towards students who are eager to extend their knowledge on the historical and cultural aspects of Spain. It is taught by native Spanish-speaking professors with backgrounds in history, art and literature. All classes are held entirely in Spanish.
The course consists of 2 hours of daily history, art or literature classes that can be combined with a regular Spanish course. These specialized classes will focus on past historical events, important literary figures or art; all of which are fundamental in providing the student with a deep understanding of Spanish culture.
The Spanish history, art or literature course will uncover the reality of present-day Spanish society by focusing on a series of important historical, artistic or literary figures of the past. The thoroughness of these units will reinforce the students' Spanish skills by enhancing listening comprehension and vocabulary.
This course is offered in Granada, Barcelona, Madrid and Salamanca.
Get the price of your course
Destinations

Barcelona, Granada, Madrid, Salamanca

Price List

| | |
| --- | --- |
| 2 weeks | € 375 |
| 4 weeks | € 750 |

Practical Information

| | |
| --- | --- |
| Duration | 2 or 4 weeks |
| Frequency | 10 lessons per week |
| Classes | minimum of 2 students, maximum of 12 students |
| Start dates | Jan 7, Feb 4, May 6, Jun 3, Jul 1, 29, Sep 2, Oct 7 |
| Level | B1 (intermediate) |
| Age Range | Minimum 17 years old |
| Minutes per lesson | 50 |
| The School | Spain: Barcelona, Granada, Madrid, Salamanca |