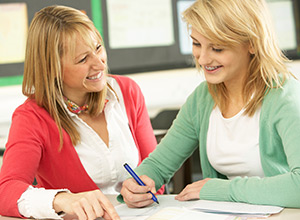 Individual Spanish classes
If you don't have much time and wish to make the most of it, you can follow your own pace of learning with a personalized Spanish course.
You can also choose a mixed option: group class on an Intensive course + individual classes.
We will continue to advise you right until the end. First, we will analyze your individual goals and then we will create a personalized program adapted to you with regard to content, timetable and additional activities such as company visits, cultural tours and excursions.
This program is offered in all don Quijote schools at all levels. You can also request information on specific content and vocabulary you wish to learn, such as literature, business, or any other subject.
Tailor Made Language Training
You can choose the number of classes you wish to take or the number of packs offered for any of our don Quijote schools. There is also a special price available for these classes if 2 same-level students study together.

A One to One class in Guanajuato

One to One Spanish class
Get the price of your course
don Quijote Schools
Mexico Schools
Latinamerica Schools
Destinations

Barcelona, Granada, Madrid, Salamanca, Tenerife, Valencia

Price List

| | | | |
| --- | --- | --- | --- |
| per week | 1 student | 2 students | 3 students |
| 1 lesson | € 40 | € 25 | € 18 |
| 5 lessons | € 190 | € 120 | € 85 |
| 10 lessons | € 380 | € 230 | € 165 |
| 20 lessons | € 690 | € 450 | € 320 |
| 30 lessons | € 995 | € 640 | € 465 |
| +30 / per class | € 33 | € 22 | € 15 |

Practical Information

| | |
| --- | --- |
| Duration | Flexible |
| Frequency | You choose the number of classes or a determined number of packs |
| Classes | 1 or 2 people |
| Start dates | Any Monday, all year round |
| Level | All Levels |
| Age Range | Minimum 17 years old |
| Minutes per lesson | 50 |
| The School | Spain: Barcelona, Granada, Madrid, Salamanca, Tenerife, Valencia |

Destinations

Guanajuato, Oaxaca, Playa del Carmen, Puerto Vallarta

Price List

per week
1 to 3 weeks
4 weeks or more
12 weeks or more
Tailor Made One to One 10
260 $
234 $
208 $
Tailor Made One to One 15
360 $
324 $
288 $
Tailor Made One to One 20
460 $
414 $
368 $
Individual lesson
29 $ per lesson
Semi private lesson
22 $ per lesson

Practical Information

| | |
| --- | --- |
| Duration | Flexible |
| Frequency | You choose the number of classes or a determined number of packs |
| Classes | 1 or 2 people |
| Start dates | Flexible |
| Level | All Levels |
| Age Range | Minimum 14 years old |
| Minutes per lesson | 50 |
| The School | Mexico: Guanajuato, Oaxaca, Playa del Carmen, Puerto Vallarta |

Price List