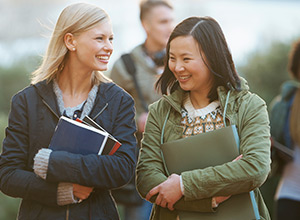 Get the price of your course
Intensive Spanish Course with Cultural Classes
This course is appropriate for people of any age who wish to learn Spanish as quickly as possible.
In the intensive Spanish course you will have 4 intensive Spanish classes from Monday to Friday in groups of no more than 8 students. If you need to advance more quickly in oral communication we recommend you go for the 30+5 course, which contains 2 extra daily classes of oral and written communication practice.
In addition, with the 'formula +1' you have the option of attending an extra and completely free daily class covering different topics of cultural interest of Spain and Latin America. We know that for General Intensive Spanish courses to be successful, it is not enough to offer excellent teaching. Other factors, such as socio-cultural aspects, also play an important part in its success.
The intensive Spanish course is available at all don Quijote schools: Barcelona, Granada, Madrid, Salamanca, Tenerife and Valencia.
Interactive and Intensive Spanish Classes
Each day, the class takes you one step closer to achieving your goal: to communicate more and better in Spanish. For this reason, we integrate all skills in the classroom, combining the intensive Spanish classes with various tasks and activities in which you are the main protagonist.
Activity examples
Reading, analysis and debates on newspaper articles.
Telephone conversations in Spanish.
Viewing and discussing films and documentaries.
Listening to songs.
Debates on current affairs.
Learning grammatical rules in specific context.
Leisure Programs
And why not get more out of the intensive Spanish course by combining it with our exciting leisure program?
Learn all the secrets of Spanish or Mexican cuisine in a cooking course. Spend your free time diving in the crystal clear waters of the Atlantic or feel the Spanish passion in our Flamenco classes.
don Quijote Schools
IEG Schools
Partner Schools
Mexico Schools
Latinamerica Schools
Request more information Enroll now! Chat with us now
In the exceptional case that 1 or 2 students are enrolled in a Spanish course in the same level group, the number of classes per week will be reduced slightly.