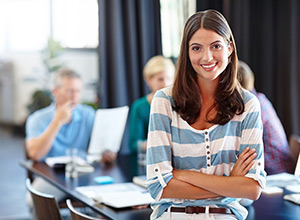 Intership: 8+ week placement
An internship is one of the best ways to explore what job you might like to choose after university. An internship in Spain will not only build your résumé (CV) and language skills, it will give you a firsthand look at the world of work and everyday life in one of Europe's fastest growing economies while you gain Spanish work experience.
Professional work experience in:
Barcelona, Madrid, Salamanca or Seville
This combined language and work experience program is designed to promote the acquisition of high level language skills in our Spanish courses with work experience while providing complete immersion in Spanish within a professional office environment with hands-on professional work experience. Entrance requirements are high, admission is competitive, and a high level of classroom and job performance is expected.
Work experience in Spanish
Committed to your success: During your internship, we're with you every step of the way. You'll have weekly meetings with our internship team from the first week you arrive, to define your area of interest, develop your Spanish résumé (CV) and practice with you in mock interviews.
A well-structured program from beginning to end
The Learn Spanish and Work Experience internship program at don Quijote is structured in two phases:
An Intensive Spanish course for a minimum of 4 weeks in any don Quijote school or 2 weeks of Intensive Spanish+2 weeks of Intensive Business in Barcelona, Madrid or Salamanca. To participate in the internship program, you must have an advanced level of Spanish (B2) on completion of this Spanish course.
The internship placement period for 2 months in your chosen sector in Madrid, Barcelona, Salamanca or Seville.
Already have a good grasp on general Spanish? Are you more concerned about your ability to keep up with business-specific vocabulary and communication during your internship? Prepare yourself for a challenging and rewarding internship by combining 2 weeks of study in a General Spanish Intensive course with 2 weeks in our Business Intensive course, and learn business-specific communication during part of your 4-week preparatory course with our work and study in Spain program.
Destinations

Barcelona, Granada, Madrid, Salamanca, Valencia

Price List

12 weeks
4 weeks Intensive Spanish + 8 weeks Internship
€ 1180
8 weeks Internship
€ 800
Extra week
Intensive Spanish
€ 200
Internship
€ 150

Practical Information

Duration
Spanish Course: Minimum 4 weeks
Placement: 8 weeks
Classes
maximum of 8 students
Start dates
Every 1st Monday of each month, year round
Level
Spanish course: B1 (intermediate) required Internship: B2 (advanced) required
Age Range
Minimum 17 years old
Minutes per lesson
50
The School
Spain: Barcelona, Granada, Madrid, Salamanca, Valencia