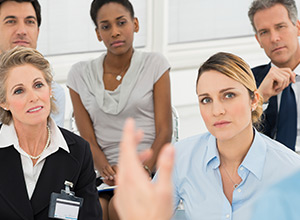 Business Spaans voor Professionals
De cursus Business Spaans is bedoeld voor professionals met al een gemiddeld of gevorderd niveau van de Spaanse taal en die kennis en vaardigheden op het gebied van zakelijk Spaans naar een hoger niveau willen tillen.
Met behulp van praktijkvoorbeelden en rollenspellen oefen je het professionele Spaans en zo ontwikkel je de know-how om in het Spaans te communiceren en te onderhandelen met klanten en collega´s.
Om te werken aan het jargon en inzicht in de taal worden de lessen Business Spaans ondersteund door professionele presentaties, commerciële teksten, zakelijke krantenberichten, discussies enz.
We raden de cursus Business Spaans aan voor professionals en mensen die op internationaal gebied aan hun carrière willen werken. 
De cursus Business Spaans is beschikbaar op verschillende bestemmingen in Spanje en Mexico. Voor meer informatie over deze specifieke cursus verwijzen we je naar onderstaand schema of neem contact met ons op.
Handige informatie en prijzen 2016
Kies je bestemming
Spanje: Barcelona
Granada
Madrid
Málaga
Salamanca
Valencia
Colombia: Bogotá
Cartagena
Land

Spanje

Prijslijst

2 weken
€ 395
4 weken
€ 790

Praktische Informatie

Duur
2 of 4 weekse cursus
Frequentie
10 lessen per week
Groepsgrootte
minimum: 3 studenten, maximum: 10 studenten
Startdata

4 Jan, 1,29 Feb, 9 Mei, 6 Jun, 7 Jul, 1 Aug, 5 Sep, 3 Okt

Niveau
B1 (halfgevorderd)
Leeftijd
+17
Minuten per les
50

Land

Spanje

Prijslijst

2 weken
€ 395
4 weken
€ 790

Praktische Informatie

Duur
2 of 4 weekse cursus
Frequentie
10 lessen per week
Groepsgrootte
minimum: 3 studenten, maximum: 10 studenten
Startdata
4 Jan, 1,29 Feb, 9 Mei, 6 Jun, 7 Jul, 1 Aug, 5 Sep, 3 Okt
Niveau
B1 (halfgevorderd)
Leeftijd
+17
Minuten per les
50

Land

Spanje

Prijslijst

2 weken
€ 395
4 weken
€ 790

Praktische Informatie

Duur
2 of 4 weekse cursus
Frequentie
10 lessen per week
Groepsgrootte
minimum: 3 studenten, maximum: 10 studenten
Startdata
4 Jan, 1,29 Feb, 9 Mei, 6 Jun, 7 Jul, 1 Aug, 5 Sep, 3 Okt
Niveau
B1 (halfgevorderd)
Leeftijd
+17
Minuten per les
50

Land

Spanje

Prijslijst

2 weken
€ 395
4 weken
€ 790

Praktische Informatie

Duur
2 of 4 weekse cursus
Frequentie
10 lessen per week
Groepsgrootte
minimum: 3 studenten, maximum: 10 studenten
Startdata
4 Jan, 1,29 Feb, 9 Mei, 6 Jun, 7 Jul, 1 Aug, 5 Sep, 3 Okt
Niveau
B1 (halfgevorderd)
Leeftijd
+17
Minuten per les
50

Land

Spanje

Prijslijst

2 weken
€ 395
4 weken
€ 790

Praktische Informatie

Duur
2 of 4 weekse cursus
Frequentie
10 lessen per week
Groepsgrootte
minimum: 3 studenten, maximum: 10 studenten
Startdata
4 Jan, 1,29 Feb, 9 Mei, 6 Jun, 7 Jul, 1 Aug, 5 Sep, 3 Okt
Niveau
B1 (halfgevorderd)
Leeftijd
+17
Minuten per les
50

Land

Spanje

Prijslijst

2 weken
€ 395
4 weken
€ 790

Praktische Informatie

Duur
2 of 4 weekse cursus
Frequentie
10 lessen per week
Groepsgrootte
minimum: 3 studenten, maximum: 10 studenten
Startdata
4 Jan, 1,29 Feb, 9 Mei, 6 Jun, 7 Jul, 1 Aug, 5 Sep, 3 Okt
Niveau
B1 (halfgevorderd)
Leeftijd
+17
Minuten per les
50

Land

Colombia

Prijslijst

1 tot 3 weken
390 $ per week
4 tot 8 weken
340 $ per week
+8 weken
330 $ per week

Praktische Informatie

Duur
1 week of meer
Frequentie
20 Groepslessen + 5 Professionele vocabulaire
Groepsgrootte
maximum: 8 studenten
Startdata
Elke maandag, het gehele jaar door op elke school
Niveau
Alle niveaus
Leeftijd
+18
Minuten per les
60

Land

Colombia

Prijslijst

1 tot 3 weken
390 $ per week
4 tot 8 weken
340 $ per week
+8 weken
330 $ per week

Praktische Informatie

Duur
1 week of meer
Frequentie
20 Groepslessen + 5 Professionele vocabulaire
Groepsgrootte
maximum: 8 studenten
Startdata
Elke maandag, het gehele jaar door op elke school
Niveau
Alle niveaus
Leeftijd
+18
Minuten per les
60