Unviersal's Port Aventura
Behold the enticing vistas! Port Aventura is teeming with more than a million square meters of fascinating scenery. Discover over thirty thousand types of vegetation. Voyage from the mild Mediterranean climate of Mediterránia to the tropics of Polynesia. Find yourself at the Great Wall of China one minute and at the ruins of Mayan Mexico the next. Join real live cowboys for a taste of the Far West. Let's go to see the areas of the park: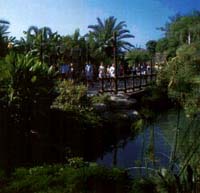 Click to view another photo
POLYNESIA:
Step into a world of exotic colors and smells to the beat of ritual drums. Then, cool off by jumping into the great lake from the summit of the Tutuki Splash volcano.
-Sea Oddyssey
-Tutuki Splash
-Kontiki Wave
-Canoes
-Waikiki
-Loco-Loco Tiki
-Tami Tami

CHINA:
Fasten your seat belts and get ready to rocket down at 110 Km./h. on the biggest roller coaster ride on the European continent. It's name is Dragon Khan and you'll find it in China.
In this area you will find the follow rides:
-Waitan Port
-Tea Cups
-Dragon Khan
-Cobra Imperial
-Fumanchú
-Área Infantil

The "Jing Chou Magic Temple", "The Great Imperial Theatre", "Sun Pao (The storyteller)" and "Puppets" are shown in China.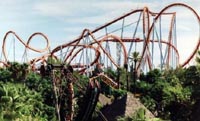 Click to view another photo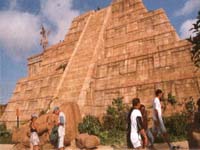 Click to view another photo
MÉXICO:
Marvel at the colossal ruins of the Mayan Empire towering over the bubbling activity of Mexico. Party with the Mariachis, taste its spicy cuisine and take your emotions to new heights with the exhilarating rides and attractions.
In this area you will find the follow rides:
-El Diablo - Tren de la mina
-Serpiente Emplumada
-Trono de Pacal
-Chac - Mool
-Yucatán
-Los Potrillos
-Armadillos

The "Mariachis", "The Great Mayan Theatre", "Marimbas", "Viva México" and "El Camino de los Mayas" are shown in México.
FAIRWEST:
Get ready to witness Estampida, the most exciting wagon chase of your life over a labyrinth of wooden tracks.
In this area you will find the follow rides:
- Wild Buffalos.
- Buffalo Rodeo.
- Silver River Flume.
- Grand Canyon Rapids.
- Crazy Barrels.
- Penitence Station.
- Carrousel.
- Stampida.
- Tomahawk.

The "Fort Frenzee", "Show Saloon Can-Can", "Country Music", "Penitence Band", "El Tahur Maverick" and "Pluma de Águila" are shown in the Far West.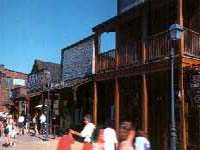 Click to view another photo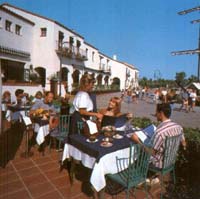 Click to view another photo
MEDITERRÁNEA:
Welcome to Mediterrània, a picturesque Mediterranean village that will charm all guests. The warm hospitality of its people and the appeal of its white-washed houses confer the true spirit of this coastal locale. This is the perfect place to take a promenade or simply relax.
In this area you will find the follow rides:
- Port de la Drassana.
- Estació del Nord.

The "Universal Moments" and "FiestAventura" are shown in the Mediterránea