Barcelona's theatre scene does not enjoy the same international reputation as Madrid's does, however, what it lacks in literary authority, it makes up for in the visual and audio spectacle of its performances. The theatre scene in the city is lively and well aended, including work by regional and international playwrights.
Popular venues include:
Teatre Lliure
Carrer Montseny 47
Gràcia tel: (93) 218 9251
website: www.teatrelliure.com
Teatre Tívoli
Carrer Casp 8
tel: (93) 412 2063
Teatre Poliorama
La Rambla 115
tel: (93) 318 8181
A varied programme of drama, music and dance is on offer at:
Teatre Nacional de Catalunya
Plaça de les Arts 1
tel: (93) 306 5700
e-mail: info@tnc.es
website: www.tnc.es
El Mercat de les Flors
Carrer Lleida 59
tel: (93) 426 1875
Palau de la Música Catalana
The Palau de la Música Catalana is one of the world's leading concert halls.
Considered to be one of Modernism's chief exponents, it was built by the Catalan architect Lluís Domènech i Montaner between 1905 and 1908. In 1997 it was declared a "World Heritage Site" by the UNESCO.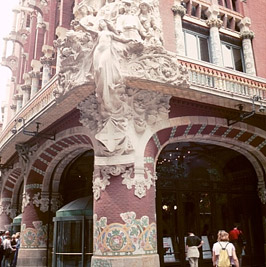 Palau de la Música Catalana
The Palau de la Música Catalana plays host to musical seasons arranged by different organizations, with a frequency exceeding three hundred sessions per year.
Since it's opening, Barcelona concertgoers have had the privilege to attend concerts performed by the world most famous artists, i.e., Leonard Bernstein conducting West Side Story, Duke Ellington performing his masterful swing music, as well as Karajan, Chick Corea, and so many others.
These musicians have given the Barcelonians some unforgettable nights of music. While in Barcelona you should experience such a magical night too.
Address: St.Francesc de Paula, 2
08003 Barcelona
Web: www.palaumusica.org
Metro stop: Urquinaona
Gran Teatre del Liceu
The Gran Teatre del Liceu, contrary to other opera houses, was built with private contributions instead of governmental funds.
It opened on April 4th 1847, with a varied program of symphonic pieces, operas and plays. On January 31st 1994 a fire once again engulfed the Grand Liceu theatre.
As in 1861, when it was set on fire for the first time, only the foyer and the horseshoe arch remained intact. The response from the regional governments and population as a whole was swift and to the point: there was a need to rebuild it on the same site as soon as possible. The new theatre was reopened in October 1999.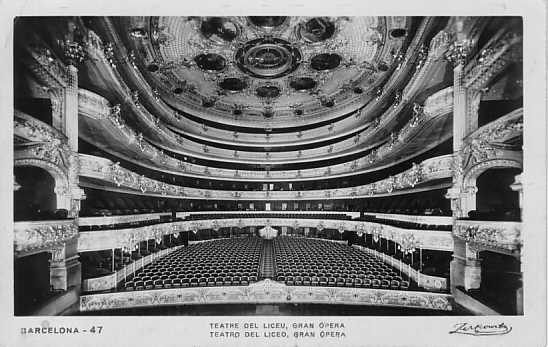 Barcelona. Teatre del Liceu, Gran Ópera.
The most important works by Mozart, Rossini, Verdi, Wagner, Puccini, Strauss, etc. have been sung at the Liceu by the greatest voices of the last two centuries.
Domingo, Pavarotti, Caballe, Callas, Tebaldi will always have a special place in the hearts of the audience. In the last 25 years, a lot of younger people have become fans of these works and regularly attend the performances at the Liceu.
Address: La Rambla, 51-59
08002 Barcelona
Web: www.liceubarcelona.com
Metro: Liceu