Monuments of Estepona
IGLESIA DE LOS REMEDIOS (s.XVIII)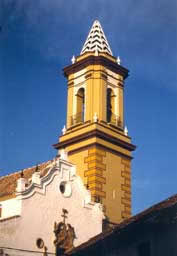 The origin of this church is a legend. The legend says that in 1400 this was a forest full of pines, then the neighbors of Estepona, found a crucifix, which they attributed to the first Christians, those that were living during the Moslem epoch.
They constructed a hermitage in the place in which they had found the crucifix with the same trees that had to be felled to leave a space free for his building. He was been called Christ of the Veracruz and the neighborhood where houses were constructed, was called also of the same name.
Close to the hermitage they founded a hospice "of the Purest Concepcion of Holy Ana". Between the year 1725 and 1766 it started knowing it as convent (of San Francisco) due to the Franciscan Parents of the Tertiary Order.
They came from Alcala the Real and it was called this way until 1889 when there moves the Church of the Remedies of the Plaza of the Clock to this place, the ruinous condition in which one was finding the former church.
TORRE DEL RELOJ (s.XV)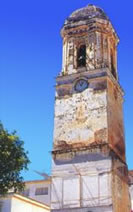 The Tower are the remains of a church ordered to construct for Enrique IV (1472).
Its origin was Arabic, period during which it was a minaret of a mosque. After the capture of the villa by the Castilians, the mosque passes to be a church, with the tower as belfry. In the century XVIII is added a dome of neoclassic style, decorated with garlands. The square where one finds the Tower shelters nowadays the musical Of Navarre enclosure Mollor, from where the Municipal Band of Music offers its season of concerts.
ERMITA DEL CALVARIO (s.XVIII)
The Hermitage is a small construction of the century XIX of square plant and vault of edge. The exterior is of great simplicity. The tower of the former parish is the only rest preserved of the original parochial church. The technical personnel think that the date of this construction is about 1818, year in which there were realized important squares and bells of style "ochavado". Initially it was a place of reception of lepers and patients who were separated to avoid the contagion in the villa. At the end of XIX the neighbors turn it into a sacred place of prayer.
PLAZA DE TOROS (BULLRING) (S.XX)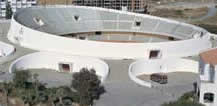 It was inaugurated in 1.972, and design by the architect Juan de Mora Urbano. He was in the same year National Prize of Architecture, the originality resides in its particular asymmetric design and elliptical form; only two squares exist in the whole world of these characteristics, one that of Mexico and other one that of Estepona. The square also is use for musical and folklore spectacles.