Ecotourism around Oaxaca, Mexico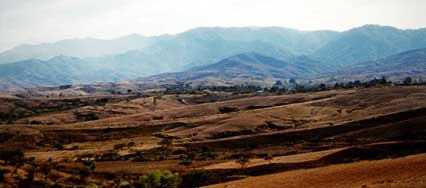 View of the hills in the south of the valley of Oaxaca
Ecotourists daring to venture into all that Oaxaca's natural attractions have to offer will certainly not be disappointed. Oaxaca boasts of some of the world's most beautiful beaches, lagoons, gardens and mountain ranges.
Marine Life
The natural freshwater lagoons of Manialtepec and Chacahua along the Pacific Coast are not only a great place to discover Oaxaca's marine habitat, but are also a prime destination for avid birdwatchers. What's more, you can take a short bike ride from the lagoons to explore mangroves, jungles and rainforests.
Sea turtles favor the Oaxacan littoral during mating season. That's why Mazunte Beach is the perfect setting for the "Centro Mexicano de la Tortuga," a popular stop for ecotravelers. The Mexican Marine Turtle Center promotes sea turtle research and preservation, as well as housing a small museum.
Jungles & Rainforests
Surrounding the hills of Espino and De Los Machos, you can explore some 3,000 acres of jungle area, home to about 23 species of mammals and 55 species of birds, some of which are endangered. There is also a vast expanse of coffee plantations in this area, mostly around Santa Maria Huatulco, Pluma Hidalgo and San Miguel del Puerto. These picturesque plantations, surrounded by miles of tropical rainforests, provide comfortable lodging for travelers looking for respite from a day's adventures.
Valles Centrales
The Central Valleys encompass exciting trips to the archaeological sites of Monte Albán, San Antonio Arrazola, La Lobera, Teotitlan del Valle and Yagul. In fact, the State Tourism Agency of Oaxaca has created a distinct section soley to concentrate on the promotion of ecotourism in the Central Valleys.
Read more:
Mountain Ranges
For travelers who prefer rugged mountains, the Sierra Juarez offers rainforests, icy canyons and ecodiversity. It is home to about 6,000 species of plants - roughly 80% of the country's total - along with 400 species of reptiles and hundreds of other exotic animals such as jaguars and spider monkeys.
Read more: