Geography of Oaxaca, Mexico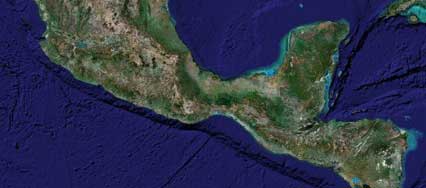 Geography, Mexico
The state of Oaxaca is situated along the Pacific Ocean in the southeastern part of Mexico, where the Eastern and Southern Sierra Madre converge. Spread over 100,000 square kilometers of land, Oaxaca shares the border with the states of Puebla and Veracruz to the north, Guerrero on the west and Chiapas on the east.
Oaxaca's geography is extremely fragmented. Its mountain ranges extend all throughout the state but only about 10% of the land is actually arable. The state is divided into 571 municipalities, accounting for about one-quarter of Mexico's total number of municipalities.
Oaxaca is ideally located some 5,000 feet above sea level, which makes for a mild, almost perfect climate throughout the year. Aside from its mountains, some of which peak at 10,000 feet, Oaxaca also boasts of a dazzling variety of caves and caverns, secret jungles, spectacular beaches and valleys which are home to people of myriad ethnic origins.
There is more to the rugged topography of Oaxaca than simply its lush landscapes and its almost perfect weather. It also played a crucial role in the development of Oaxaca's cultural and ethnic diversity. Because the many different ethnic groups lived in seclusion for a long period of time, they were able to preserve and maintain their distinct languages, customs and traditions. In fact, until today, traces of the dominant ethnic groups such as the Mixtecs and the Zapotecs can still be found.Oaxaca is considered the most ethnically complex of all of the country's 31 states.