Travel Documents for Mexico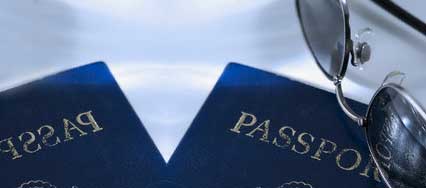 The following information has been gathered directly from the official governmental bodies. Nevertheless, for the latest information or any doubts about Mexico travel documentation and regulations, it is best to contact your local Mexican embassy or consular office.
General Entry Requirements
Citizens of the following countries do not need a special visa to enter Mexico as a tourist, but must present a valid passport and tourist card (FM-T, see below): Germany, Andorra, Argentina, Australia, Austria, Belgium, Canada, the Czech Republic, Chile, Cyprus, South Korea, Costa Rica, Denmark, Slovakia, Slovenia, Spain, Estonia, Finland, France, Great Britain, Greece, Hungary, Irland, Iceland, Israel, Italy, Japan, Latvia, Liechtenstein, Lithuania, Luxembourg, Malta, Monaco, Norway, New Zealand, the Netherlands, Poland, Portugal, Puerto Rico, San Marino, Singapur, Sweden, Suiza, Uruguay & Venezuela.
Any non-Mexican citizen under 18 years old must have a notarized letter of permission signed by their parents or guardians. The letter should state the name of the parent/guardian, the child's name, the name of anyone traveling with the child, and the signature of the absentee parent/guardian.
Requirements for U.S. Citizens
If you are a U.S. citizen planning to visit Mexico by land or cruise in 2007, you will need a birth certificate, a driver's license or any other state-issued photo ID. Be sure to bring original documents -- copies will not be valid. A passport for land travel may be required as early as January, 2008. If your birth certificate is your only identification, then you must have the original copy and an embossed seal of the state.
Recent U.S. laws now require citizens flying by air to Mexico to present a valid passport as of January, 2007. There will be temporary regulations allowing citizens whose passports are being processed to return with the formerly required identification, due to the enormous demand for new passports.
Mexico Tourist Card: FM-T
To enter Mexico, will also need a Mexico tourist card, also known as an FM-T. These are available at most airports, by airlines, and at consular offices. It is a document issued by Mexico's government declaring that you are in Mexico as a tourist.. Although there are several kinds of Mexico visas, the FM-T is simply a declaration of your intention to stay in Mexico as a tourist for 180 days or less. You may avail of this FM-T at or near the border if you are traveling by land or on the plane if you are traveling on air. Hold on to your FM-T until the end of your trip, because you will need it upon departure.