Ecotourism in the Valles Centrales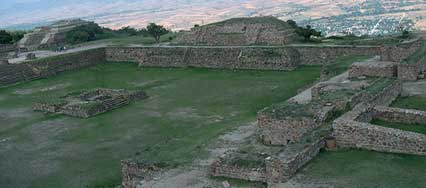 Monte Albán Valley
The Central Valleys offer some of the most exciting ecotourism activities in all of Oaxaca. Take your pick and try birdwatching, hiking, mountain biking, horseback riding and more!
For paragliding, a popular place is La Lobera. Some of the most wonderful natural attractions, on the other hand, can be found in Teotitlan del Valle and Santa Ana del Valle, along with their exquisite textiles and excellent community museums.
Other places of note in the Valles Centrales include Yagul, which is famous for rappelling and rock climbing venues, and Ocotlan, Tlacolula or San Jose El Mogote for their fiestas, markets and handicrafts.
Tourist Yu'u
The state tourism agency of Oaxaca boasts a special division precisely dedicated to promoting ecotourism in the Valles Centrales. To this end, they have created a project of small tourist houses in nine Indian villages, also known as "Tourist Yu'u".
Tourist Yu'u in the Valles Centrales can be found in such destinations such as Benito Juarez, Teotitlan del Valle, Quialana, Tlapazola, Santa Anna del Valle, Santa Cruz, Hierve el Agua, San Sebastian Abasolo and Tlacolula de Matamoros. Many of these areas have suffered environmental degradation such as deforestation, so the goal of providing tourists an authentic rural experience is to encourage the preservation of the local traditions and environment.
Accommodations in these inns run for a modest $4US per person per night in shared accommodations or for camping. Foreign guests are encouraged to obtain good directions from the office in downtown Oaxaca, as these houses are rather difficult to locate and maps are rather unreliable.