About Playa del Carmen, Mexico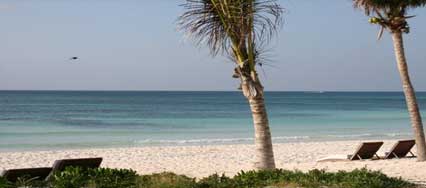 Quintana Roo Beach
Playa del Carmen, located at the heart of the Riviera Maya, is today one of the liveliest and most beautiful destinations situated along the Mexican Caribbean. Just 45 minutes south of Cancun, and home both to a rapidly growing population and promising economy, the city is the third largest in the state of Quintana Roo.
Once merely a quaint fishing village, Playa del Carmen has rapidly evolved into one of the world´s most popular tourist hot spots; offering both a bustling nightlife and stunning landscapes. The magnificent beaches and natural wonders complement perfectly the plethora of hotels, boutiques, restaurants and bars dotted along the City´s 'Quinta Avenida´ (Fifth Avenue), making it the perfect destination, whether it be just for a vacation or for something more permanent.
It´s never tricky to find somewhere great to stay in the City, with a selection of over 100 hotels, hostels or apartments from which to choose. Dining options are similarly limitless, with the restaurants boasting an array of varied dishes from around the globe.
The shopping choices are countless and diverse, with boutiques selling anything from Cuban cigars to native handicrafts. Beyond the City itself, popular destinations for visitors include the nearby ancient Mayan ruins, the Xel-Ha Aquarium, the Xcaret Ecological Park, the Xaman Ha Aviary, and the ´Playacar´ resort.
Playa del Carmen is also a popular destination for watersport enthusiasts, beach lovers, snorkelers and scuba divers, catering to every taste. The city is definite must-visit, promising a wonderful experience to all who make the trip.