The Carribean Sea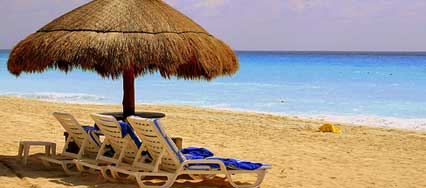 One of Cancun's amazing beaches (Mexico)
The Caribbean Sea is a sea located in the Western Hemisphere. It is bordered by Mexico and Central America in the south and west; Antilles, including Jamaica, Cuba and Puerto Rico, in the north; and South America in the south.
Located in the Western Hemisphere, the Caribbean Sea spans over one million square miles, contains more than 20 islands and surrounds several countries. Furthermore, the Caribbean Sea is home to nearly 10% of the world's coral reefs. These coral reefs allow the survival of a wide range of saltwater creatures.
The Caribbean also sustains a wide range of water activities. In surrounding places, such as Playa del Carmen in Mexico, tourists can enjoy various water activities, such as fishing, snorkeling, and scuba-diving. Cruises are also common in the Caribbean, with millions of tourists climbing aboard for cruises each year.
Aside from offering leisure activities to tourists, the Caribbean Sea also supplies a number of businesses. The oil production industry and the fishing industry both benefit greatly from the Caribbean Sea, which is a huge source of these items.
Various efforts to promote the conservation of the Caribbean Sea are underway. Some of these efforts include cleaning out the pollution in the area and limiting human activities to prevent the destruction of the Caribbean marine life.