Introduction to the City of Playa del Carmen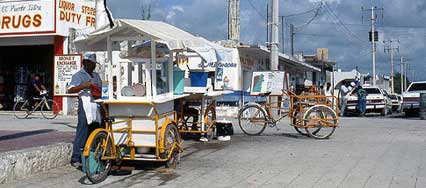 Juarez Avenue
From Highway 307, you can get to the main square of Playa del Carmen via the city's main street, known as Avenida Juarez. On the way, you will pass a few streets with names in multiples of 5. The town square, known as El Zocalo, is where you can find several important city offices, including the police station, the bus station, the post office and a number of banks.
From there, you can get to another major street, known as 5th Avenue or "Quinta Avenida." This street lies parallel to the beach, and is lined with various hotels, restaurants, bars and shops. It is also where you will find the town's pedestrian walkway, where about 500 meters of the street is closed to traffic from all kinds of vehicles. Near the end of the pedestrian walkway in the south, you can find the dock where you can hop aboard the ferry to Cozumel.
Further south, you can find Playacar, which is the high-end area of town. Large resorts, mostly all-inclusive types, can be found here, along with condominiums and golf courses. You can also find Mayan archaeological sites and the aviary.
Walking the other way from 5th Avenue, you will get to another major avenue, known as Contituyentes. Going further north, you will find that the city becomes less developed and crowded. If you walk along the beach, you will find that the sand and the water in this area is better. People who wish to snorkel typically go to this part of the beach, known as Coco Beach.
Going west away from the beach, you can find the more residential part of Playa del Carmen. If you want a true Mexican experience, and especially want to try authentic Mexican food, it is a good idea to try the restaurants along 30th Avenue.
The beach is not the only thing to look forward to in Playa del Carmen. Wherever you go, you'll surely find something worthwhile to do. Explore!