Etymology of Playa del Carmen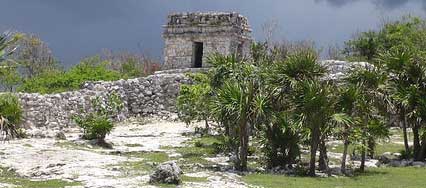 Mayan ruins in Tulum
Playa del Carmen, which lies in the heart of the Riviera Maya, is a city in the Mexican state of Quintana Roo. The Spaniards gave the city the name "Playa del Carmen" in honor of Our Lady of Mount Carmel, the patron saint of Cancun.
Prior to Spanish colonization, the Playa del Carmen was a Mayan city named Xaman Ha, which translates to "waters of the north. During those Pre-Columbian times, Playa del Carmen became a departure point for Mayan pilgrimages to the sanctuary of Ixchelc in Cozumel, a stop-over of sorts for those traveling from the great cities of the Mayan world to the island of Cozumel.
According to some historical accounts, during a hurricane storm many years ago, a gigantic wave flooded a small church by the beach and took with it a picture of the Virgin of Carmen. Years passed and another wave came this time returning the same picture to the same church. This church is still in existence on the beaches of Playa del Carmen and is open for visits.
Playa del Carmen combines its rich historical heritage with all the comforts and amenities of modern life. It is partly a living testament to the life and times of its ancient Mayan inhabitants and partly a continuing witness to modern times. For those who want to experience the best of both worlds, Playa del Carmen is definitely the place to go to.