Geography of Playa del Carmen, Mexico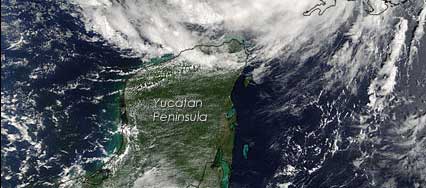 Yucatan Peninsula
Playa del Carmen, or simply known as Playa, is a coastal city in Mexico. Playa del Carmen is located in Quintana Roo, on the east side of the Yucatan Peninsula. It lies on the shores of the Caribbean Sea.
Nearby are other popular Mexican cities. Playa del Carmen is surrounded by Cancun in the north and the Calica port in the south. Because of its location, Playa del Carmen is easily accessible by air, via the Cancun international airport, and by sea, via the Calica dock. A popular itinerary in Playa del Carmen is the ferry boat ride to the island of Cozumel, which lies over 10 miles to the east of the city.
Playa del Carmen's surroundings are composed of a tropical jungle outlined by white-sand beaches along the Caribbean. There are mangroves, lagoons and inlets dispersed throughout the area. The land in the area is made up of limestone, limiting the number of rivers in the city.
Playa del Carmen is a major focal point in the Riviera Maya, and was once an important element in the Mayan culture. Famous Mayan ruins, such as Coba and Tumulare, are easily accesssible from Playa del Carmen. A unique aspect of Playa del Carmen is the presence of cenotes, also known as sinkholes. These cenotes are central in the settlement of the Mayas and to the development of the Mayan civilization.
With the increasing popularity of Playa del Carmen, more commercial establishments have been and are being developed throughout the area. There is an abundance of resorts, hotels, nature parks, restaurants, shopping malls and recreational facilities. A high-end area known as Playacar, with resorts and golf courses, is situated at the southern part of the city.
Regional Geography
The geography of Playa del Carmen provides tourists with a diverse range of activities, such as water activities, jungle and archaeological tours, nature trips and ferry rides. Enjoy!