History of Playa del Carmen, Mexico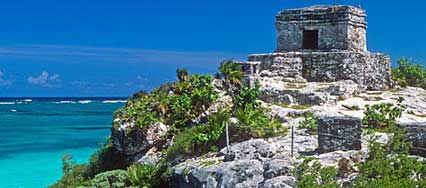 Great Mayan Reefs
In its earliest days, Playa del Carmen was inhabited by the Mayan culture. It later spent time developing as a fishing area before growing to become the tourist destination we know today.
The post-Classical period saw the height of the Maya civilization, with Cozumel, Cancun and Playa del Carmen becoming major players in the area's trade industry. Playa del Carmen's location, lying between the two ports of Honduras and Veracruz, makes it ideal for international trading.
In the early 1900's, Playa del Carmen became a territory of Mexico and, more specifically, a part of the state of Quintana Roo.
The 1960's ushered in the growth of the surrounding areas of Cozumel and Cancun. Cozumel gained popularity because of an underwater documentary filming the Great Mayan Reef, the second largest reef system in the world. During this time, the tourism in Cancun also started to blossom, with the beginning of a big development project in the area.
In the 1970's, Playa del Carmen became more accessible to travelers, with the building of a boat dock enabling ferry service to Cozumel and the Cancun International Airport. However, Playa del Carmen remained an undeveloped fishing village. Gradually, more and more tourists started traveling to the area, leading to the eventual establishment of hotels, restaurants and all-inclusive resorts. The boat dock also opened up to cruise lines, bringing in more travelers.
In the 1990's, Playa del Carmen's population substantially grew, making it known as the fastest growing city in Mexico. Playa del Carmen started becoming more popular in the international community. La Quinta Avenida, Playa del Carmen's main avenue, became filled with more shops and restaurants that international tourists enjoy. Playacar also became popular to the more affluent tourists visiting the city.
The Riviera Maya became counted as a top international destination in 2006. In the midst of commercialization, Playa del Carmen's local government has tried to keep the city's reputation as a small charming fishing area, making it perfect for travelers who want a comfortable and fun-filled vacation.
Etymology of "Playa del Carmen"
Find out where Playa del Carmen got it's name here: