Money in Mexico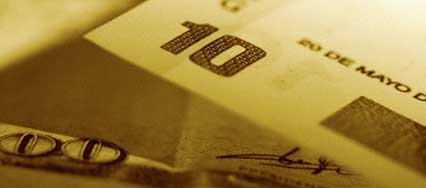 Mexican pesos
The Mexican peso is the currency used in Playa del Carmen. Exchange rates vary, although 1 US dollar is more or less equivalent to 11 Mexican pesos.
There are plenty of banks in Playa del Carmen, a number of which are found on Juarez Avenue. These include Banamex, Bancomer and HSBC, among others. Banking hours are usually from 9 in the morning to 5 in the afternoon. These banks usually have ATMs. ATMs are dispersed all over town, and dispense up to about 3000 Mexican pesos a day.
If you need to have your money exchanged, there are plenty of money exchange stores - known as "Casas de Cambio" - all over the town. These stores are mostly found on 5th Avenue, and are typically open until 9 or 10 in the evening. You can also have your money converted at the airport, although the exchange rate is lower than if you have it exchanged at the bank.
You can go to most banks to have your traveler's check converted to cash. Some money exchangers also convert traveler's checks.
Take note that in Playa del Carmen, you cannot get a cash advance on your credit card.
Most establishments, especially large stores, accept payment via credit card. However, some shops charge an additional fee, even as high as 6%, when you pay using your credit card.
Many stores also accept money in other currency, including US dollar and Euro. However, these places usually use a lower exchange rate, eventually making you pay more.
Before buying anything, ask the store what forms of payment and currencies they accept. Also, taxes are imposed on all goods and services, so ask if the price quoted is already tax-inclusive. Keep in mind that smaller shops typically only accept cash, so it is a good idea to have money on hand when traveling in Playa del Carmen.