Playa del Carmen Spas & Gyms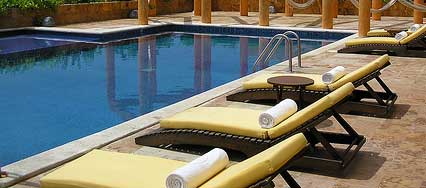 Vida Real Spa in Playa del Carmen
Playa del Carmen is gaining a reputation as a destination for people in search of some rest and relaxation. There are endless ways to do just that in Playa del Carmen.
There are a number of spas you can visit in Playa del Carmen. These spas offer a variety of treatments, including therapeutic massage, reflexology, aromatherapy, facial treatments and body wraps. Some spas, such as the Spa Itza and the Om Spa, offer authentic Mayan treatments that you can't find elsewhere. A unique treatment that you shouldn't miss is the Temazcal, or the Mayan sauna. Spas offer treatments in different environments, such as in the middle of the jungle, on the beach or in the comfort of your own room.
Yoga has also become a popular pastime in Playa del Carmen. Several studios and instructors offer yoga classes in Playa del Carmen, such as Yoga by the Sea. Some studios, such as El Jardin de Los Aluxes, also offer classes for dance and Capoeira, the popular Brazilian martial art.
There are also different gyms in Playa del Carmen that you can enroll in, such as Muscle Beach and Area Fitness. Local gyms are typically equipped with bodybuilding equipment while also offering various classes, such as Kick Boxing, Martial Arts, Belly Dancing and Pilates, just to name a few.
If you want to experience a different form of health care in Playa del Carmen, you can also visit the various acupuncturists and chiropractors in the area.
Finally, most people traveling to the area find that simply sunbathing and lounging around on the beaches of Playa del Carmen is a wonderful way to relax and get away from the stress of daily life. For people who want some quiet time, the white sand beach of Playa del Carmen is a good place to go.