Transportation in Playa del Carmen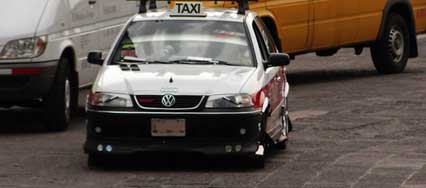 It is common for Mexican taxicab drivers to heavily customize their vehicles
Since Playa del Carmen is a rather small town, it is best to go around and explore it by foot. However, if walking is not your thing, there are several other available modes of transportation that you can choose from: collectivos, taxi cabs, buses, tricycles and cars for rent.
A collectivo is a public utility van that travels through Highway 307 from Playa del Carmen to Tulum. You can get on and off at any point between these two places. If you want to catch one, you have to stand on the right side of the highway. When a collectivo approaches, observe whether the headlights are blinking on and off. This means that there is still space inside the vehicle and you may ride the vehicle if you want to. You simply have to wave your hand towards it to inform the driver that you have an intention of riding. Once inside, you have to tell the driver where you want to go and you just have to pay him once you reach your destination. Apart from Highway 307, you can also find collectivos in a stand at Calle 2 (between 15th and 20th Avenues).
Taxi cabs are numerous in Playa del Carmen and are generally inexpensive. They can take you from one point to another or you can rent one for the whole day. However, make sure to negotiate and settle the price first with the driver before you actually get into one.
You can also ride the bus to get to certain destinations. There are two bus stations in Playa del Carmen. The main bus station is located at 5th Avenue. The other bus station can be found just a few blocks away from the 5th Avenue bus station.
A tricycle would be your best bet if you are just traveling short distances within Playa del Carmen. In fact, there are even certain areas of town in which only tricycles are allowed.
Finally, cars for rent are also plentiful in Playa del Carmen. This is a good idea if you plan to make frequent stops or if you simply want to take a joyride.