Canopy Tours in Puerto Vallarta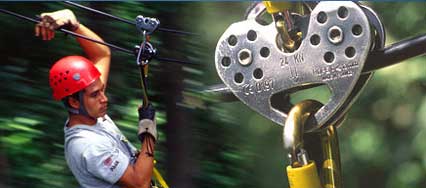 Canopy Tour
One of Puerto Vallarta's newest adventure activity offerings are its Canopy Tours. Feel the adrenalin rush as you swing and glide through trees to get a bird's eye view of the lush tropical jungles of the city's nearby environs. Skilled professional guides will lead you and other participants from platform to platform using pulleys on horizontal cables. As you "zip" from tree to tree, the guide will describe and point out the notable flora and fauna unique to the place.
Canopy tours first got its start in 1992 in the tropical rainforests of Costa Rica. Tour participants used contraption wires, cables and a pulley system to explore the the environment's endlessly rich biodiversity.
Today there are three leading companies in Puerto Vallarta offering Canopy Tours: Vallarta Adventures, Los Veranos and El Eden.
Vallarta Adventures Canopy Tours offers the highest elevation - approximately 250 feet - of all canopy tours in Puerto Vallarta. They also boast the safest equipment around. Tour participants will zip through seven cable lines, the longest line being 220 meters long. This tour is recommended for older people, families, big groups, and those who are not really that bold and daring but who want to experience this exciting activity just the same.
Located just 30 minutes south of Puerto Vallarta, Los Veranos Canopy Tours feature the Las Juntas de los Veranos ecological preserve and a scenic ocean view drive. The more daring traveler will have to go through a total of 14 cable lines, which are especially designed to take its riders higher and faster. The final cable line will shoot you over the rapids and on to a traditional Mexican palapa bar. This is recommended for people who enjoy speed and heights or for those who want a more thrilling and heart-pounding kind of experience.
Finally, El Eden Canopy Tours is the newest group to join the bandwagon and features the longest flight of all: 470 meters! This tour is recommended for people who want to maximize their time, as aside from experiencing an actual canopy tour, they can also shop, dine and swim as well.
See Puerto Vallarta from a different view! Try out a Puerto Vallarta Canopy Tour!