Presentation: About Puerto Vallarta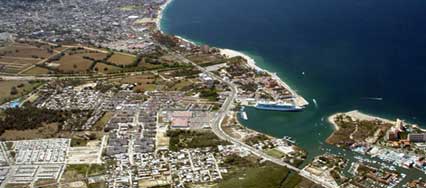 Aereal View of Vallarta
Puerto Vallarta is one of the world's most famous beach resorts. It is the 5th largest city in Jalisco, Mexico, and is located along the shores of the Pacific Ocean's Bahia de Banderas. It is bordered on the north by the fertile plantations of Valle de Banderas. To the southeast lie the Sierra Madre mountains.
Puerto Vallarta has an area of over 500 square miles, with approximately 25 miles of shoreline and a population of over 150,000. The area also boasts a vast array of natural wonders, such as hills, forests, waterfalls and rivers.

Vallarta Adventures Canopy Tours

Watersports
The beaches of Puerto Vallarta are filled with rich oceanlife, namely whales, dolphins and sea turtles. Tourists can also enjoy the beautiful view of Banderas Bay. Playa Misamaloya, one of the beaches in Puerto Vallarta, is a hotspot for celebrities. Puerto Vallarta's resorts are also quite popular among couples and provide the perfect setting for weddings and honeymoons.
You can also rent boats at the Puerto Vallarta marina. Cruise ships also frequent the ports of Puerto Vallarta.
There are endless activities you can do in Puerto Vallarta. Watersports are popular in here, specifically scuba-diving, snorkeling, fishing and extreme watersports. Puerto Vallarta is also famous among golf enthusiasts. Canopy tours, horseback riding tours and excursions are also favorite activities of travelers.
Art lovers also enjoy the art tours in various galleries in the area. Sculptures line the streets of the famous boardwalk, known as the Malecón. Painters also sell their artworks to visitors on the streets.
The region's famous Mexican cuisine and authentic alcoholic drinks, such as Tequila, keep tourists coming back again and again. Plus, with its famously buzzing nightlife, Puerto Vallarta is a favorite destination for students during spring break.
What are you waiting for? Come visit the beautiful city of Puerto Vallarta!