Watersports in Puerto Vallarta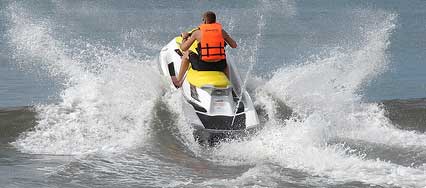 Jetski, - watersports in Vallarta
The calm waters of Puerto Vallarta attract numerous fans of all kinds of watersports all over the world. Popular watersports in Puerto Vallarta include jet skiing, surfing and parasailing- just to name a few.
A number of Puerto Vallarta hotels and resorts allow their guests to rent jet skis to tour the islands. You can generally rent a jet, more commonly known in Puerto Vallarta as a wave runner, for half an hour or an hour at a time. Depending on how many individuals will ride, you can opt to rent a jet ski good for one, two or three people. For bigger groups, you can also rent a jet boat. Jet skiing is allowed in certain beach areas, away from the shore and the crowds.
The favorable wind and waves in Puerto Vallarta also make surfing a favorite pastime in the area. More than 20 surfing spots can be found all over Banderas Bay, including Bahia de Chamila, Playa Rosa, and Playa Cuatas. Some of these surfing spots are unnamed, and most of them can only be reached by boat. The many surfing spots are ideal for surfers of all levels. If you're just starting out, enjoy the gentle waves at spots like Playa de Oro. On the other hand, if you're a seasoned surfer, head for the more intense waves at surf sites like Boca de Tomates. You can also try surfing in nearby states, such as in Nayarit.
If you're looking for adventure and an unbeatable view, then you should try parasailing over the Bay of Banderas in Puerto Vallarta. Parasailing involves a 15-minute parachute ride over the ocean. A number of rental shops in the area provide you with the necessary equipment and teach you the basics of parasailing. You can typically choose whether to take-off from the beach or from a boat. Hotspots for parasailing include Playa de Los Muertos and Las Animas.
You can have any of these Puerto Vallarta watersports arranged right on the beach. Get wet and wild in Puerto Vallarta!