Dolphin Encounters & Whale-Watching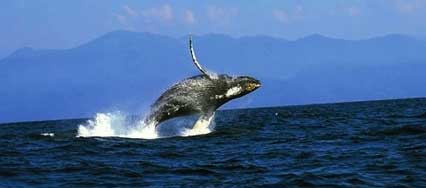 Whale watching
Interacting with various forms of marine life, such as dolphins and whales, is an incredible opportunity available right here in Puerto Vallarta.
If you want to see dolphins up-close, several dolphin shows are available in Puerto Vallarta. If you want a more educational and interactive dolphin experience, you can try the various programs offered by Dolphin Adventure in their special research facilities.
Some programs allow you to touch the dolphins while learning more about them. This typically costs around $60. Another program allows you to work with dolphins and their trainers, but for a much steeper price.
You can also get the chance to swim with dolphins at certain times throughout the day. This usually costs around $150. Tickets for the swim are usually sold out days or even weeks in advance; it is recommended that you contact the facility for reservations.
There is also a special program for children who wish to interact with dolphins. Children ages 4 to 8 are allowed to interact with baby dolphins. The introductory program costs approximately $60.
If you're coming to Puerto Vallarta anytime between November and March, you should definitely include whale-watching in your travel itinerary. During this time, humpback whales migrate to the Bay of Banderas to mate and reproduce. Several companies, including Ecotourism de Mexico and Vallarta Adventures, offer eco-tours in the area during this time. Open Air Expeditions also offers a tour guided by oceanologists. Some of these tours and cruises include transportation, meals, snorkeling and photo sessions. Some tours may require reservations. Cost is approximately $80.
The various Puerto Vallarta whale-watching and dolphin encounter programs are part of an effort to promote the understanding and the conservation of these animals. By going on these tours, you will be able to help in the research and protection of dolphins and whales as you enjoy a totally unforgettable experience.