Salamanca Photos


The reign of the Catholic Monarchs in the 15th century heralded a period of splendour which was to give rise to figures of renown, such as Antonio de Nebrija (author of the first vernacular Castilian Spanish Grammar), and architectural masterpieces, such as the façade of the University building. Its stones would also see the birth of Spanish literary characters, namely, "El Lazarillo de Tormes", as well as the lovers, Calisto and Melibea (from the work entitled, "La Celestina o Tragicomedia de Calixto y Melibea"). The existence of 54 printing presses, 80 bookshops, 15 monasteries and convents, 19 hospitals, a number of churches and two cathedrals eloquently attests to the city's importance in the 16th century. The Plaza Mayor (Main Square) traces its origins to salmantino (i.e., Salamancan) support for the Bourbons in the 18th-century struggle for succession. It was Philip V, the first monarch of this line, who gave the necessary royal assent to the council's decision to embark on the square's construction.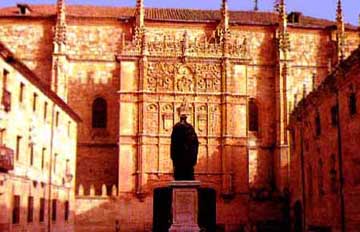 Salamanca University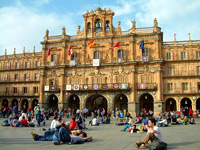 Plaza Mayor
The 19th century was a bleak time for the city. The War of the Independence (Peninsula War) wrought havoc with its artistic heritage; the university slid into profound decadence, with the student body never exceeding five score and the very institution on the brink of collapse. Midway through the century, Salamanca started on the road to recovery. Communications improved, the city was linked into the railway grid, and the population started to increase, rising to 25,000 by 1900. It was in this same year that Miguel de Unamuno became Rector of the university, which began to regain its lost vitality and nowadays imparts instruction to something like 45,000 students.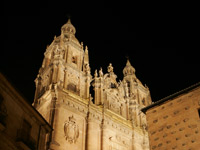 Clerecía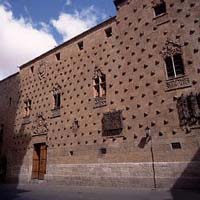 Casa de Las Conchas
Maps of Salamanca
Click here to see a full map of the city.