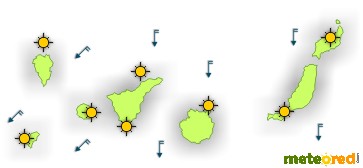 Weather in Tenerife today Monday, December 18, 2017
News about the weather
The nickname of the Canaries comes from it's climatic conditions. Spring temperatures dominate throughout the year. The average lies between 20-22ºC. During the cooler days the thermometer doesn't fall under 15ºC and rarely gets higher than 30ºC on the hotter days.
Even though the West African coast, with it's dry and hot climate, is only a few kilometers away, the Canaries experience spring like temperatures the whole year. We can connect the balanced climate specially to the Passat winds coming from Northeast and the cold sea current from the North of the Canaries. Because of this stream, the temperatures sink in summer and during the winter the climate remains mild. But determinant factors for this climate are the Passat winds (Vientos Alisios).
The season change occurs almost unnoticeably; The South of the island is regularly warmer and sunnier than the North, where the clouds of the Passat winds are sometimes blocked in the valleys, leaving certain humidity and damp in the trees of the higher mountains. That's why the North of the island is much greener. Important! For excursions to the North of the island and to Teide always take a wind jacket and something in case of rain. In winter at a height from over 2.000 meters it could even snow.
Tenerife is called the "Island of eternal Spring" because of its equilibrated climate and abundant vegetation in the North. The Passat winds which go through the high mountain and the cool sea current are to thank for the good and balanced climate conditions the whole year round.
Tenerife has different climatic zones. In the Northeast moist woods, at the North abundant vegetation, over 2,000 meters height lunar like landscapes, between 1,000 and 2,000 meters big forests and in the South dry and sunny weather. Besides that we find 3 different cloud climate zones:
The land below the clouds there is almost the whole year a warm subtropical climate with a lot of sun and sporadic rain.
The land in the clouds (between 500 and 1,200 meters ) there is high humidity, higher rain precipitation and cooler temperatures also in summer.
The land over the clouds has the greatest temperature changes between night and day and summer and winter. During the day it's warm and dry, by night it can be very cool.
Here we have the average temperatures in each month in Barcelona capital:
January: 18ºC
February: 20ºC
March: 21ºC
April: 23ºC
May: 26ºC
June: 28ºC
July: 29ºC
August: 28ºC
September: 26ºC
October: 24ºC
November: 18ºC
December: 18ºC