During 2005 the world celebrates the 400th anniversary of the publication of Cervantes' Don Quixote de la Mancha. Throughout Spain and in cities such as Dallas, Mexico City, Paris, Brussels, Oran, Algeria, and St. Petersburg, Cervantes' novel will be celebrated with plays, debates, exhibitions, concerts and films. "Don Quixote Round the World", a travelling exhibition featuring paintings, drawings and engravings, begins a world-wide tour of book fairs in April.
The first edition of Book One of Don Quixote came off a printing press in Madrid on December 20, 1604, and reached the public on Jan 6, 1605.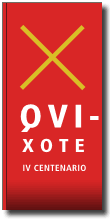 The novel quickly became an international best seller. Four centuries on, it still ranks as the most published and translated book after the Bible.
If you've not yet read all of Don Quixote, here's a striking recommendation. In 2002, Don Quixote de la Mancha was voted the best book ever written by a group of 100 writers from 54 countries, among them Salman Rushdie, Wole Soyinka, Milan Kundera, John Irving, Seamus Heaney and Norman Mailer, in a survey organised by the Norwegian Book Clubs in Oslo. It beat its closest contender by a 50% margin!
Join us in celebrating the 400th anniversary of a literary work that has had a remarkable impact on writers, literature and people all over the world. Send us signs of Don Quixote's impact on your part of the world and we'll gladly add them to our Virtual Museum and give you full credit for the contribution. Click here to contribute a Quixote-related photo to our museum.
To learn more about the Don Quixote 400th Anniversary celebration, visit:
The Official IV Centenario Site: www.donquijotedelamancha2005.com
Everything you need to know, plus a complete Anniversary agenda, in Spanish and English.
Spain's Ministry of Culture. In Spanish. www.mcu.es
Return to this page often. We'll update it throughout the year with events and celebrations in Spain, in our don Quijote Spanish Language schools, on the Web and throughout the world.