Book One
Alonso Quijano, a lean, less-than-affluent man of 50, lives modestly in a village in La Mancha with his niece and housemaid. An avid reader, he gradually becomes obsessed with books of chivalry and sells off acres of his farmland to expand his book collection. Eventually, "from little sleep and too much reading", his brain "dries up" and he loses his wits. He decides to "turn knight-errant and travel through the world with horse and armour in search of adventures" with the purpose of "redressing all manner of wrongs".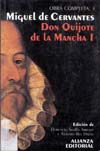 Outfitting himself in rusty armour and a cardboard helmet, Quijano mounts his old nag and sets out in search of adventures, dubbing himself "Don Quixote de La Mancha" and his horse - "Rosinante". Finally, as the last step in his transformation to knight-errant, he chooses a local farm girl, whom he renames Dulcinea del Toboso, as the fair lady to whose service he is sworn. The landlord of an inn, believing Quijano to be the lord of a castle, consents to knight him, and the transformation is complete.
Three days into his expedition, Don Quixote is badly beaten by the servant of a group of travelling merchants who refuse to acknowledge Dulcinea's great beauty. A neighbour rescues the adventurer and carries him home on the back of a donkey. While he is recovering from his injuries, Quixote's housekeeper, priest, and barber burn his beloved book collection in a failed attempt to dissuade him from continuing his quest. More determined than ever, Don Quixote persuades Sancho Panza, a plump local labourer, to be his squire. He is certain that a knight of his stature will take many war spoils and promises Sancho Panza his own island to govern at the end of the expedition.
Don Quixote, astride Rocinante, and Sancho Panza, riding Dapple, his donkey, set off on the next expedition in secret and under cover of night. The second adventure, lasting just three weeks, makes up the remainder of Book One. The pair's adventures include a battle with windmills Quixote mistakes for giants, an unexpected visit to Quixote's bed by a maid in an inn Quixote mistakes for a castle, a solid rousting from the aforementioned inn when Quixote refuses to pay, and numerous other error-ridden encounters. Along the way, Sancho christens Don Quixote "the Knight of the Sad Countenance".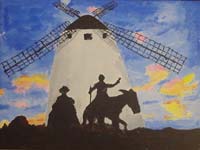 Along the way a number of moral tales illustrating Spain's pastoral story-telling tradition weave their way into the plot. Don Quixote delivers two lengthy monologues: a learned description of the Golden Age of mythology told during a supper shared with goatherds who understand not a word of his discourse, and a lengthy speech at an inn, during a debate about whether the career of arms is superior to that of letters.
As Book One progresses, the reader learns that Quixote, for all his seeming madness, is a mild-mannered, empathetic man, genuine in his commitment to chivalric ideals. Sancho Panza, despite having his own agenda, comes to believe in and show loyalty to his master.
As the first book closes, the knight returns home humiliated, locked in a cage on an ox-cart, prisoner of his village priest and barber. They remain determined to end Quixote's quest for his own good.