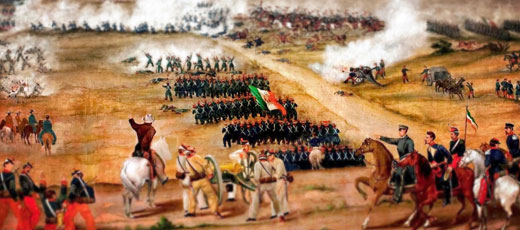 El Cinco de Mayo. Es uno de los mejores momentos para conocer la cultura mexicana ya que hay un aumento de la importancia prestada a esta cultura este día.
A Mexican National Holiday
Cinco de Mayo, 5th of May, is a Mexican national holiday, which is primarily celebrated throughout the country but, in particular, in the state of Puebla due to its local significance. This day is also celebrated fervently in many parts of the United States because it is a day that celebrates Mexican pride and heritage inside and outside of the large Mexican immigrant community. This festival is officially known as La Batalla del Cinco de Mayo in recognition of an important military victory against the French and with that it is, for many people, an important date in the history of Mexico. However, one must not confuse this day with Mexico's Independence Day, which is celebrated on September 16th.
This holiday celebrates the unexpected victory of the Mexican army over the French on May 5, 1862. Prior to the battle, the Mexican government was bankrupt due to years of wars with the United States and internal armed conflicts. As a result, Benito Juarez, President of Mexico, decided to issue a moratorium on payments to all foreign creditors for a period of two years. Not agreeing with this posture, France, Spain and England sent warships as a threat demanding payment. Eventually Spain and England withdrew while France continued to threaten armed force.
Napoleon III, with thoughts of a new western empire decided that this moment would be an excellent opportunity to establish France as an imperial power in America. Having what was then considered the best trained army in the world, he believed that this would be a relatively easy task. With the invasion of Veracruz in April of 1862 and the disembarkment of 8000 well trained French troops, France began its task of conquering Mexico. On May 5, 1862 the French, under the command of Charles de Lorencez, and the Mexicans, directed by General Ignacio Zaragoza, met around the city of Puebla. Surprisingly the Mexican army defeated the French this day and according to a description of the battle written by General Zaragoza afterwards: "The French fought bravely under the leadership of an incompetent".
Even though the Mexicans won this battle, the war was eventually lost. The French would control Mexico with the Emperor Maxmillian established as the French proxy. As the younger brother of Austrian emperor Franz Josef, Napoleon III found in Maxmillian a strategic European noble willing to represent France in the New World. As emperor, his government was never recognized by most Mexicans as well as by governments such as the United States. He would later be executed when his empire collapsed after the French departed in 1867.
Today, the 5th of May, is not an obligatory state holiday, although schools are closed; instead it is celebrated as a voluntary day off in Mexico. Inside and outside of Mexico, this day is celebrated by anyone who feels a connection with the struggle for freedom and independence; for this reason it is a day that most Americans can connect with regardless of their background. You will also find important Mexican and Mexican-American icons visible throughout the day, including the Virgin of Guadalupe, César Chavez and Benito Juarez. Ultimately, this day is a celebration of Mexican unity and pride.
The 5th of May in the United States
In the United States, where celebrating Cinco de Mayo originated, you can find events of all kinds in all the major cities and towns across the country. It is not hard to find organized cultural events featuring music, theater and art. In fact one of the best times to experience Mexican culture is during Cinco de Mayo since there is an increased importance and attention given during this time.
If you want to participate in the Cinco de Mayo fiesta but prefer something simpler, there are usually special menus and offers in Mexican restaurants. Especially popular on the 5th of May, many restaurants are usually booked days in advance. Mexico is easily accessible through its cuisine. From lime soup found in the Yucatán to the omnipresent burrito originally form Guanajuato, Mexican food and its American cousin, Tex-Mex, is a great way to get to know this country's history and culture—especially on this day.
Cinco de Mayo is day that celebrates so many things: a day when David beat Goliath; when a country found its identity; a struggle for freedom from a foreign invader… This celebration, with its universal appeal, has crossed borders and is celebrated in a multitude of ways around the world. But, for most Mexicans and Mexican-Americans it is a day to remember with pride the troubled beginnings of this diverse and resolute country.