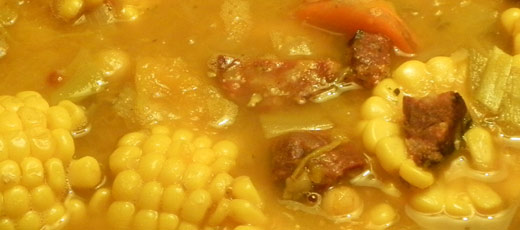 Locro, Argentine Food. Locro is a hot and hearty white corn (hominy) based soup that Argentines celebrate as a national dish.
Locro is a hot and hearty white corn (hominy) based soup that Argentines celebrate as a national dish. This delicious cold-weather soup carries on the legacy of ancient Incan dining concepts, making it quite unique as much of Argentine cuisine, particularly in capital cities like Buenos Aires, traditionally look to Europe for influence. The thick, chowder-like stew originated along the Andes mountain range (where it is still widely enjoyed today) at a time when the Incan empire thrived in Bolivia, Peru and the northern region of Argentina.
As with many popular dishes with traditions that spill over international borders and date back centuries, endless varieties exist. Every region, indeed every home seems to hail their own version as the unrivaled victor of some imaginary global locro cooking competition, with winning family recipes often accredited to a grandma who received instruction that had been passed down for generations. Needless to say, this tummy warming soup is a source of passion and fiery pride in Argentina.
The rules of making Locro are wonderfully flexible, offering creative cooks a world of zesty possibilities. Ecuadorian locro for example usually calls for cheese. Most agree that the first step involves cooking hominy for hours until it becomes tender. Unhurried preparation recalls this indoorsy, winter season classic's wholly outdoor, summer time counterpart asado –an Argenine meal where family and friends lounge around under the sun for hours indulging on slow grilled meats (including organs). Organ meats (beef tripe, etc.) often make a bold appearance in locro also, which may intimidate newcomers. Many purists however insist that it is precisely these organ elements that give authentic locro its flavorful charm.
Along with the cooked hominy, cooks usually add meat, which can be beef (often on the bone), tripe or chorizo. A vast array of vegetable options make this soup, which you can eat as a meal, a vitamin powerhouse perfect for bolstering defenses that help protect us from nasty cold bugs which commonly attack in winter months. Choose from heavy veggies such as potatoes, squash, yams and pumpkin. All these ingredients are carefully mashed together to give the soup its dense texture. Many recipes also call for beans. The stew may feature garnishing in the form of green onions and seasoned with ground cumin, black pepper and paprika. In Argentina it is often served with bread. Some regions also serve a spicy sauce on the side known as quiquirimichi. The main rule here is to serve the soup piping hot in a bowl.
With a highly involved cooking process that may require long hours of kitchen toil, the dish is largely reserved for special occasions such as May Revolution Day (May 25), a national holiday which celebrates revolutionary events that took place in 1810, eventually leading to the nation's independence from Spain. Locro's indigenous influence makes it an appropriate meal for celebrating the event that marked political separation from Europe. This comforting meal also works great for large parties, as producing larger portions can easily be achieved by doubling, tripling, etc. ingredient quantities. You can really enjoy a steamy bowl of locro soup on any chilly winter day however, in the tradition of the ancient Incas and modern Andes mountain communities, to keep you warm and your appetite satisfied.