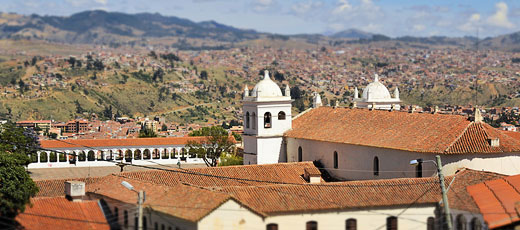 Sucre in Bolivia. Despite being a quarter of the size of La Paz in terms of population, Sucre is still considered the country's official capital.
With its beautifully-maintained, whitewashed buildings and prominent terracotta rooftops, Sucre, Bolivia's constitutional capital, provides the happy-snapping tourist with an abundanceof picture-perfect shots. Despite being a quarter of the size of La Paz in terms of population, Sucre is still considered the country's official capital and, as a former Spanish colony, is home to both indigenous inhabitants and European descendants. Boasting a wealth of fascinating museums, ornate religious buildings, adrenaline-filled sporting activities and vibrant market places, it comes as no surprise that Sucre was declared a UNESCO World Heritage Site in 1991.
From Charcas to La Plata to Chuquisaca to present-day Sucre, the Bolivian capital is so steeped in history that its name has changed on multiple occasions and is, therefore, equally, and appropriately, known as the "City with Four Names."
Thanks to his crucial role in liberating several Latin American countries, including Bolivia, from Spanish colonial rule, Antonio José de Sucre was justly honored through the most recent renaming of the capital city.
Undoubtedly a bonus for the thousands of keen sightseers who flock to the city annually, is the fact that Sucre enjoys a warm temperate climate all year round. Situated in the south-part of the country and, at just 2750m above sea level, visitors can tour the capital in comfort and, as for the sights themselves, Sucre is certainly not lacking in choice. From an Incan empire to the 300-year-long Spanish colonial period (1538-1825) to the eventual gaining of independence in 1825, Sucre is a city abounding in history—a history preserved by the capital's many museums. Within the walls of Casa de la Libertad, visitors are free to explore possibly the most monumental building in the nation's history— the site where Bolivia's declaration of independence was signed. For those tourists intrigued by Sucre's rich indigenous past, a trip to the Museo de Arte Indigena is next on the agenda. With a shared passion to revive the weaving practices of their Jalq'a and Candelaria ancestors, local women create exquisite tapestries right before the eyes of the admiring visitor. Equally impressive to the avid tourist is Sucre's16th Century cathedral, multitude of churches and convents and highly-esteemed university which, dating back to 1624,is one of the oldest in the Americas. All housed in the distinctive whitewashed buildings so characteristic of the city, visitors can respectively marvel at the imposing cathedral bell tower, admire the magnificent Baroque altarpiecesof the Iglesia de San Miguel and enjoy a guided tour of Bolivia's most prestigious educational institution.
After having spent several hours discovering the best of Sucre's interior attractions, many tourists are eager to embrace the fresh air at Parque Cretácico in neighboring Cal Orck'o. Far from being a conventional park, visitors are invited to observe the 65-million-year-old tracks left behind by more than 150 different dinosaur species. While away from the city center, sporting fanatics equally take advantage of the great outdoors by partaking in the numerous activity tours on offer. From hiking to mountain biking to horseback excursions to paragliding, both lovers of gentle exercise and thrill seekers alike find a Bolivian outdoor adventure to suit their exercise needs. Likely to have built up an appetite at this point, fatigued tourists should head straight to Sucre's central market. For those looking for an authentic Bolivian food experience, satisfy your taste buds with a national culinary favorite—the salteña. A beef or chicken-filled sweet pastry mixed with vegetables, potato and chili pepper, the salteña is brimming with flavors and, accompanied with one of the many refreshing fruit juices for sale, visitors will leave feeling thoroughly satisfied and ready for the next touristic journey ahead.
Beyond the pictures, the sights and the typical tourist experience, visitors to Sucre should appreciate a city which, in spite of its tumultuous history, continues to flourish culturally and, equally, takes pride in conserving its unique indigenous traditions.