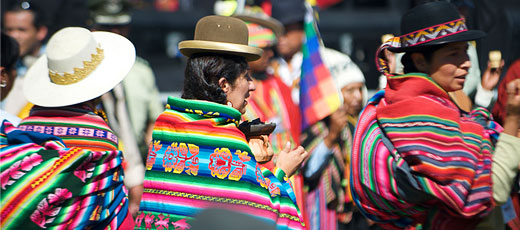 Discover Bolivian society through the Bolivian fashion, popular festivals and holidays, famous Bolivians, Bolivian customs and traditions and much more.
Bolivian society is a very mixed one, which has a lot of interesting aspects to offer to a visiting tourist. The Bolivian people are a mixture of descendents of the Spanish colonisers, indigenous Bolivians and 'mestizos' (a mix of the two) as well as other small minorities of immigrants and descendants of African slaves from the colonial period. This great diversity means there are varying Bolivian customs and traditions, depending on which part of the country you are in and the social class you are surrounded by. Bolivia has a relatively young society, with around 60% of its population being under the age of 25, and the culture of the country is definitely changing with its young population, one significant change being urban migration from the rural areas. However, a very important part of Bolivian society is the acknowledgement of the native people, their traditions and languages, some of which still exist today.
Bolivian food and fashion are just some of the interesting aspects of society in Bolivia. Find out more about them, along with other aspects of Bolivian culture in the following section. Bolivia is often overlooked among the countries of Latin America, so you're guaranteed to be surprised by its fascinating people and society.
​Image by The City Project
Related articles