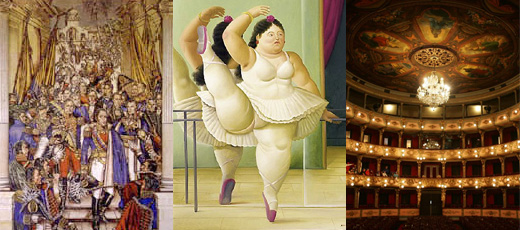 Colombian art has over 3.000 years of history although historians believe that Colombian art only began to have personality from the mid-twentieth century.
Colombian art has over 3,000 years of history. Colombian artists have captured the country's changing political and cultural backdrop using a range of styles and mediums. There is archeological evidence of ceramics being produced earlier in Colombia than anywhere else in the Americas, dating as early as 3,000 BC. Pre-colonial gold craftsmanship can be found in Colombian museums; the Museo del Oro in Bogota boasts an impressive collection and the Quimbaya is another Colombian museum worth a visit.

Colombian art has followed the trends of the time, so during the 16th to 18th centuries, Spanish Catholicism had a huge influence on Colombian art, and the popular Baroque style was replaced with Rococo when the Bourbons ascended to the Spanish crown. More recently, Colombian artists Pedro Nel Gómez and Santiago Martínez Delgado started the Colombian Murial Movement in the 1940s, featuring the neoclassical features of Art Deco. Fernando Botero is probably the most widely known Colombian artist.

Colombian architecture is mainly derived of adapting European styles to local conditions, and Spanish influence, especially Andalusian, can be easily seen. The Teatro Colon in Bogota is a lavish example of Colombian architecture from the Republican period, and the Archbishopric Cathedral also in the capital, was made in the neoclassic style in 1792, by Colombian architect Domingo de Petres. Rogelio Salmona, whose works are noted for their use of red brick and natural shapes, is a widely renowned Colombian architect, and he won the Alvar Aalto Medal in 2006.
Related articles