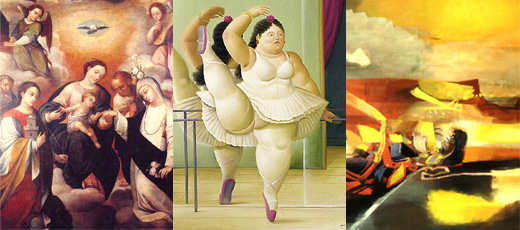 Colombian painters. Learn more about the most famous colombian painters in the history and their influence in the colombian culture and society.
There have been many famous Colombian painters over the years, and their wide range of styles and subjects has kept Colombian paintings widely respected in the international art world.
Seville native Alonso de Narvaez was the first of the colonial-era Colombian painters, with his Our Lady of the Rosary becoming an object of devotion, and one of the most famous early Colombian paintings. Gregorio Vazquez de Arce y Ceballos is another famous Colombian painter, who produced around 500 paintings, mixing European traditional figures with New World materials. The Sopo Archangels is considered one of the enduring enigmas of Colombian art. This series of twelve paintings each features an archangel, and while the origins and the artist of remain unknown, these are some of the most revered Colombian paintings.
Pedro Nel Gomez and Santiago Martinez Delgado are among the several Colombian painters responsible for the mural paintings produced in the early 20th century, which were influenced by the Mexican muralists and the Art Nouveau style. Famous Colombian painters credited with applying new styles to traditional themes include Carlos Correa, whose mix of geometrical abstraction and cubism in Naturaleza muerta en silencio is still recurrent today in many Colombian paintings. Often considered the father of modern Colombian painting, Alejandro Obregon was a very influential artist of the 20th century, and famous Colombian painters of today include Fernando Botero and Omar Rayo.
Related articles