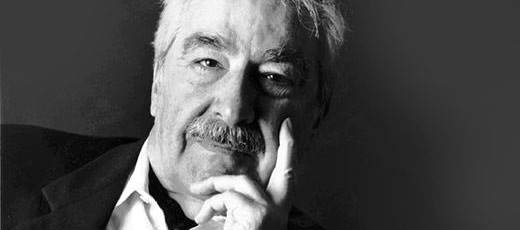 To read the works of Alvaro Mutis is to accompany the man himself on a wild, often bumpy, always adventurous search for identity and meaning.
To read the literary works of Colombian writer Alvaro Mutis is to accompany the man himself on a wild, often bumpy, always adventurous search for identity and meaning in the context of environmental contrasts that Mutis experienced as a child: the stone, chilly, old world civilization of Europe and the tropical flavor of coffee and sugar in Colombia's tierra caliente  
Mutis was born in Colombia in 1923. At 2 years old, he moved with his family to Belgium, where he lived until the age of 9. At that time, his father died, prompting the family to move back to Colombia. But while living in Belgium, Mutis would frequently return to Colombia by ship, where he stayed on his grandfather's coffee and sugar cane plantation.
Throughout Mutis' entire body of work, a roguish, seafaring character named Maqroll, makes frequent appearances and parallels Mutis' own life on certain levels: both will travel the world extensively and both will dabble in illegal activity.
While working as Standard Oil's public relations director, (where he spent time traveling on oil tankers meeting interesting people which would later inspire his novel's characters ), the Colombian writer was discovered mishandling charity money. In order to elude authorities, in 1956 the author abandoned his birth country and made for Mexico. The law quickly caught up with him and there he served 15 months in a Mexican jail. Afterward, Mutis would continue to work in positions requiring constant movement. As sales manager for 20th Century Fox and Columbia Pictures, he traveled throughout North, South and Central America.
Maqroll follows a drifter's path, most notably in the series of novellas The Adventures and Misadventures of Maqroll, which leads him through lonely jungle nights, leaves him down and out in Panama City, and takes him to such distant countries as Finland. He gets involved in a variety of shady activities such as prostitution and arms trafficking. In his travels he crosses paths with a series of other drifters (seedy lovers, a suicidal Basque sea captain, fellow adventurer Abdul, whose dream is to search the world for the ideal freighter, etc.), weaving an intricate network of relationships around the globe. Here Maqroll, indeed Mutis, find meaning and identity in their desperate and confused call to drift: their reason for living, the sense of who they are, seems to come from the experience of their relationships, from the freedom to touch the lives of people everywhere, because after all, identity is not our destination but our journey.
Mutis' own friends include many fellow Colombian authors, most notably Nobel Prize laureate Gabriel Garcia Marquez, who has called him one of the world's greatest writers. Anyone who knows Alvaro Mutis' work might also add, he is one of the greatest writers that knows the world.