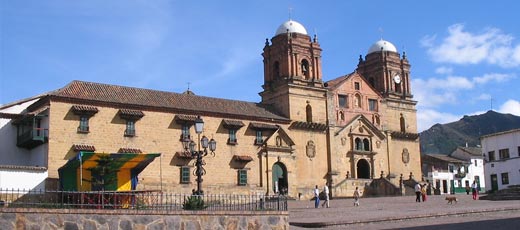 Boyacá is a department of Colombia that features diverse natural landscapes and colonial style villages nestled within the Eastern Mountain Range.
Boyacá is a department of Colombia that features diverse natural landscapes and colonial style villages nestled within the Eastern Cordillera Mountain Range that help attract countless visitors to the region each year. Here you'll find snow capped peaks, the lush vegetation of scenic woodlands and the desert lands of el desierto de Candelaria. Boyacá, located in central Colombia, was the historic setting of several 1819 battles, the results of which gained Colombia's independence from Spain and earned the department the nickname The Land of Freedom.  Much earlier, around the year 500 A.D., the Muisca people settled in the region, where they would develop rich cultural traditions and a complex economic system based on agriculture along with mining and artisan trades such as ceramics, textile weaving and gold work. Today, many Muisca people still live in the area.
Agriculture is still one of the main industries in this Colombian department of just over a million residents, as is cattle ranching, fishing, oil extraction and mining, particularly for emeralds. Tourism is also a growing industry here, where an exciting variety of destinations offers tourists the chance to experience vibrant rural customs and stunning natural wonders.
Places and Popular Cities in Boyacá
Tunja
This is the capital of the Boyacá department, a city of about 178,000 residents which often serves as a base for visitors planning to explore Boyacá. The coldest city in Colombia, with an average temperature of 10 to 13 degrees, Tunja's important universities make this a well-known college town (1 in 5 people here are students).
Villa de Leyva
This Colombian town located just 40 km west of Tunja is an official National Monument in itself, with historic colonial architecture, stone streets and a vast town square that hosts lively festivals. The surrounding desert area includes an archeological site with the intimidating name of El Infiernito (Spanish for little hell), where the ancient ruins of a Muisca astronomical observatory and religious shrine in the form of large stone columns and burial mounds invite observers to imagine life in the region hundreds of years ago.
Tota Lake
This picturesque lake sits tucked away 3,000 meters above sea level within the Eastern Mountain Range. At 44 km2, this is Colombia's largest body of water and a place to enjoy sport fishing, white sand beaches and hiking on the surrounding nature trails. The area is home to several endangered bird species such as the Colombian Ruddy Duck and the Apolinar's Wren. According to legend, the lake itself is home to the Tota Lake monster. Sightings of the monster dating back to 1652 and Muisca mythological beliefs have inspired this curious legend that recalls tales of its European counterpart the Loch Ness Monster.
Iguaque Lake and Flora and Fauna Sanctuary
According to Muisca creation myths, the goddess Bachué mystically ascended from this lake holding a boy in her arms who would go on to populate the world. Popular belief holds that a pilgrimage to the lake purifies the pilgrim's soul. Fantastic wooded landscapes, fresh water brooks that babble and spring from mountains and a wonderful diversity of flora and fauna all reward those that take the over 3 hour hike required to reach the nature sanctuary.
Paipa
3 hours from Bogotá, Paipa is an ideal Boyacá destination for relaxing. Hydrotherapy centers have been developed here around the area's natural thermal waters, where visitors can enjoy steam baths, saunas, massages and other relaxing spa activities.