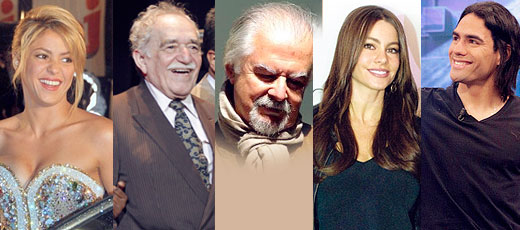 Colombian People. A curious 2012 poll concluded that Colombian people are the happiest in the world.
Colombia is a land of incredibly rich diversity, where indigenous, African, and European heritage influences many cultural traditions. Some 46 million people live here, mostly on the Caribbean coast or within the Andes Mountains.
This South American country also has no shortage of internationally celebrated personalities. Join us and get to know Colombian people, including some of the most famous figures from this dynamic country.
International singing sensation Shakira is from Barranquilla, Colombia, who has gained global fame belting out hit after hit and shaking her hips into the collective mind of pop culture enthusiasts everywhere. Gabriel Garcia Marquez blended magic and realism to become one of the most celebrated writers of the 20th century. Fernando Botero's paintings and sculptures are admired around the world for the unique visions they display. Colombian actress Sofia Vergara has charmed audiences with her memorable performances both on the silver and the small screen, winning numerous awards –particularly for her work on the American TV series Modern Family. The soccer player Radamel Falcao has been described as one of the best strikers in the world.
Read on and take a quick peek at Colombia's people.
Related articles