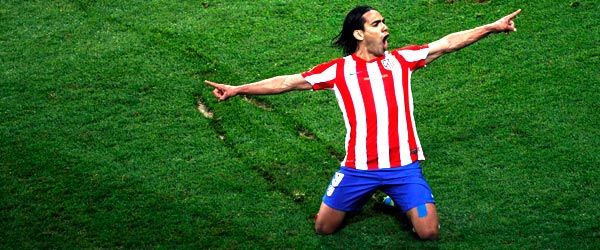 Falcao. Radamel Falcao is a Columbian footballer. He played for FC Porto for a while and used to be a member of the Atlético de Madrid football team.
Falcao is a Colombian professional soccer player and the son of retired professional defender Radamel Garcia. He likes to be called by his middle name and is prized advertising spokesperson in his home country. He is a devout Christian and spends much of his free time participating with Christian youth groups. He is married to Argentine model and actress Lorelei Tarón and is best friends with Brazilian professional soccer player, Kaká.
Falcao - "El Tigre"
Radamel Falcao is a Columbian soccer player. He has played for many teams including FC Porto and Atlético Madrid football team. His nickname is El Tigre (The Tiger) or simply Falcao. His father gave him the name Falcao in honor of former Brazilian player and coach, Paulo Roberto Falcao. Many enthusiasts consider Falcao to be one of the best strikers possibly of all time. He has broken a record for goals scored in a single competition, the UEFA Europa League, with 18 goals scored. With his performance in the championship, he helped Atlético win the Cup for the second time. He has received various awards for his play and in 2013 placed fifth in the FIFA Golden Ball Award voting.
Annually considered one of the best soccer players in the world, when he was playing for Atlético and FC Porto he combined to score than 100 goals in three seasons. Atletico's impressive record winning streak in the Europa League that lasted 12 games was largely due to Radamel Falcao's impressive goal-by-minute ratio. In 2012, Falcao became the first soccer player in 14 years to score a hat trick in a Super Cup. He is also known for his ability to head the ball long distances and for being able to play with well with both feet. He has proven himself with seasons that have produced goal-by-minute ratios better than both Lionel Messi and Cristiano Ronaldo. In 2012, Falcao spent 535 minutes on the pitch and scored a goal every 59 minutes. This translates to an incredible one goal per match.
Because of his hefty salary and offers that reached astronomical heights, Falcao was traded by modest Atlético to a team with a much larger payroll: AS Monaco. In his debut season, Falcao has not achieved the success that he previously enjoyed while being hampered by a team still under construction and later by injury. His last injury, a knee injury, in January effectively ended his season as well as eliminated him from participating in the 2014 World Cup.
Early Career
In 2001, Radamel Falcao's rights were sold to Argentine team, River Plate, for €500,000. He began his career as a professional soccer player on their youth team and made his debut in a match against Argentine club Gimnasia. Under coach, Reinaldo Carlos Merlo, Falcao soon established himself as a valuable member of the team, scoring seven goals in as many games. In November, Falcao injured his right knee causing him to miss the remainder of the "Apertura Tournament". Then, in the January of the following year, he was out of action for 6 months when he damaged the same knee again, this time more seriously and he needed surgery. When he returned to the field in September, he mainly appeared as a substitute and scored just one goal.
Falcao is still young player and he promises to continue to delight soccer fans in the years to come. Plagued by injuries in the past, we hope that this won't hinder his future.